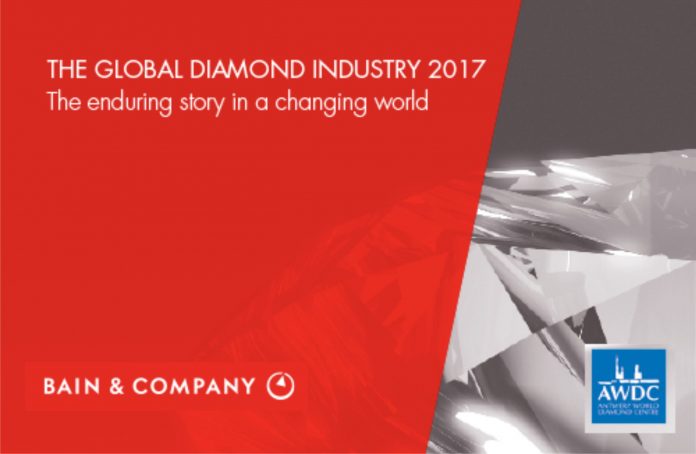 Bain & Company's seventh annual Global Diamond Report developed in partnership with Antwerp World Diamond Centre (AWDC), finds that in 2016, diamond mining companies saw a 20 per cent increase in revenues over the previous year; as they were able to sell inventories accumulated in 2015, on the back of strong demand for rough.
"However, the picture further up the value chain is less optimistic, due to waning consumer interest in diamond jewellery and intense competition from other luxury segments," Bain & Co. noted.
This, in part, has spurred the miners to "invest significantly" in diamond promotions. So much so, Bain observes, that "rough diamond players are likely to increase their marketing spend by about 50 per cent over previous years to promote the diamond story".
The study finds that global diamond jewellery sales "were roughly stable" in 2016.
"The U.S. remained the largest global diamond jewellery market, but sales here were flat in 2016 following several years of consistent growth," Bain summed up. "China's performance faltered, as the yuan posted its largest decline in value in 10 years and consumer confidence softened. A strike by jewellers and demonetisation disrupted India's market. Meanwhile, Europe continued to struggle as tourist inflows plunged. Sales in Japan were a bright spot, showing growth in U.S. dollar terms."
The midstream – the cutting and polishing industry – saw a small decrease in revenue as a result of "the slowdown in global diamond jewellery demand and the resulting downward trajectory of polished-diamond prices" in this period. However, the study found, the midstream players' profitability improved in 2016, supported by declining rough-diamond prices.
The study graphically encapsulates how "Differences in cost efficiency accounted for regional market-share changes in the cutting and polishing segment". It observes: "India, the world's largest, lowest-cost cutting and polishing centre, gained market share. It now accounts for about 90% of the global polished-diamond manufacturing by value. Already the dominant manufacturer of small stones, the country is gaining share in the more value-added segment of larger stones, mostly at the expense of China."
"The midstream segment's future health will depend on the interplay of rough and polished prices as well as the segment's ability to make continued operational improvements," commented Olya Linde, a Bain partner and one of the authors of the diamond report. "On that front, midstream players are maintaining intensive operational improvement drives, focusing mainly on reducing days to market, shortening cutting and polishing cycles, and securing financing. They are also implementing new technologies, such as automated cutting processes and advanced digital mapping and modeling of diamond cutting, to optimise yields."
The study notes that global rough diamond production volume "remained relatively flat in 2016 at 127 million carats", thus continuing the trend of the last eight years.
Interestingly, the study observes though both ALROSA and De Beers cut production in 2016, their combined market share increased to about 70% from about 60% in 2015.
Mainly due to the slackening of marketing spend on generic promotions by rough diamond producers — which fell from 5 per cent to 1 one cent of total rough diamond sales by the 2000s – the diamond jewellery market growth has trailed behind mot other luxury products since then. Added to this is a new consumer demographic – comprising the Millenials — which has gained immense significance over the last few years, but which, perhaps has not been well understood nor addressed correctly.
"In an effort to reverse these trends, rough diamond players plan to invest about US$ 150 million in both generic and private-brand marketing in 2017. Bain's research suggests that sum is a 50 per cent increase over previous years. The industry is also renewing its approach to marketing, taking into account evolving customer preferences and marketing channels," the study says.
Meanwhile, the study posited a stable outlook for 2017 across the diamond value chain.
Bain's projections over the longer-term are upbeat, supported by positive economic and demographic indicators. However, the consultancy cautioned that "future growth rests on two key assumptions: continued demand for diamond jewellery and a limited substitution of natural diamonds by lab-grown stones".
News Source: gjepc.org