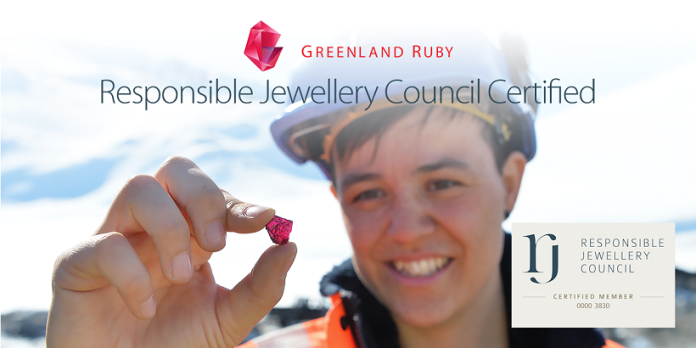 The Responsible Jewellery Council (RJC) has announced that Greenland Ruby A/S, one of the newest sources of rubies and pink sapphires in the world, has completed their auditing process to achieve their certification.
The overarching aspect of the business certified by RJC is Responsible Mining and covers all aspects of Greenland Ruby's operations in Greenland: the mine-site and processing plant in Aappaluttoq, as well as their headquarters in Nuuk. The certification extends to other business areas including Human Rights, Responsible Supply Chain and Labor Rights as well as the Social Impact in the community at the source of the Greenlandic gems. The new RJC membership status confirms Greenland Ruby's dedication to mitigating adverse environmental impacts, achieved through its monitoring plan and pre-financed closure strategy.
As a certified member, Greenland Ruby has also met all ethical, human rights, social and environmental standards as established by the RJC's Member Certification System. This achievement confirms Greenland Ruby's commitment to responsible practices within its business operations and core strategy through a continuous effort towards improvement.
Magnus Kisgaard, CEO of Greenland Ruby spoke about what the certification means for the mining operation: "It is a great accomplishment for a mining operation in the colored gemstone industry and we're proud of the efforts made to set up Greenland Ruby as a leader in responsible sourcing of gemstones. We were especially proud of the good feedback on our efforts to mitigate adverse environmental impacts, the working conditions of our employees, our positive social impact in the community as well as the good relationship with the government and municipality through the impact benefit agreement."
Iris Maria Alexis Van der Veken, Executive Director of RJC spoke about Greenland Ruby's certification: "I congratulate Greenland Ruby on achieving their certification and becoming a certified member of Responsible Jewellery Council . We believe that 2022 is the year of partnerships and multistakeholder engagement. Through companies such as Greenland Ruby integrating sustainability into the heart of their business strategy, we can really put people and planet first. Together we believe we can make real positive impact on the ground. This is the decade of trust and transparency."
In applying the RJC certification system, Greenland Ruby A/S and all its subsidiaries, including those companies related to but independent from Greenland Ruby A/S, have adopted management policies and systems that guarantee the respect of the RJC principles, and are looking forward to getting their own certification soon.
About Responsible Jewellery Council
Responsible Jewellery Council (RJC) is the leading standards organization of the global jewellery and watch industry. It has 1,500 member companies in 71 countries that span the jewellery supply chain from mine to retail. RJC Members commit to and are independently audited against the RJC Code of Practices – an international standard on responsible business practices for diamonds, colored gemstones, silver, gold and platinum group metals.
About Greenland Ruby
Greenland Ruby is a responsible source of rubies and pink sapphires. Located at the oldest corundum deposit on earth, the mine operates a high-tech processing operation. Greenland Ruby gems are produced under the strictest human rights, labor, environmental, mining and product disclosure standards. Each Greenland Ruby gem is traceable from mine-to-market and comes with a Greenland Ruby Certificate of Origin or Card of Authenticity.