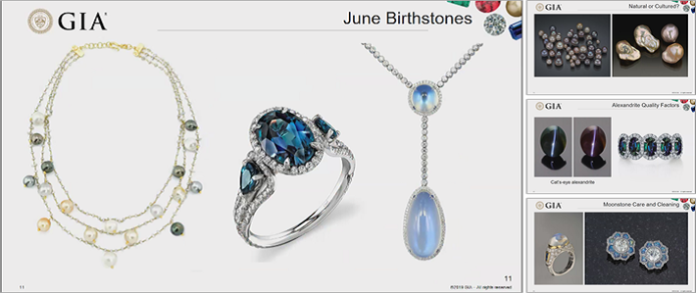 GIA India organised a Knowledge Webinar on "June Birthstones: Pearl, Alexandrite and Moonstone" on June 19, 2020, for members of the gem and jewellery trade across India. More than 130 participants attended this webinar to learn important information about June birthstones.
GIA India Instructor Karan Kundra shared insights on the sources, histories and quality factors of pearl, alexandrite and moonstone. The webinar also taught the participants information about laboratory-grown gems and simulants, along with a few care and cleaning tips.
"We saw good participation of trade members from all parts of India in the Knowledge Webinar about June birthstones," said Manoj Singhania, Director – Education, GIA India. "It was an interactive session with encouraging responses throughout. Following the webinar, all participants' questions – including the difference between cultured and natural pearls, determining the origin of moonstone and more – were answered in a dedicated Q&A session."
"Birthstones are a fun, popular and colourful introduction to the world of gemstones. They appeal to audiences around the world regardless of gender, age, nationality or religion," said Sriram Natarajan, Managing Director of GIA India. "This Knowledge Webinar on June birthstones gave trade members fun facts and insights about these gemstones, which will help them buy and sell with confidence. Informative webinars such as these organised by GIA India are a part of the Institute's mission to ensure public trust in gems and jewellery."
Birthstones carry secrets, attributes and lore that are unique to each gemstone. There are countless myths and legends around the many different powers and attributes that birthstones have. Whether or not you believe these legends, it's hard to disagree that learning about birthstones can be an educational and entertaining experience.
News Source : gia.edu