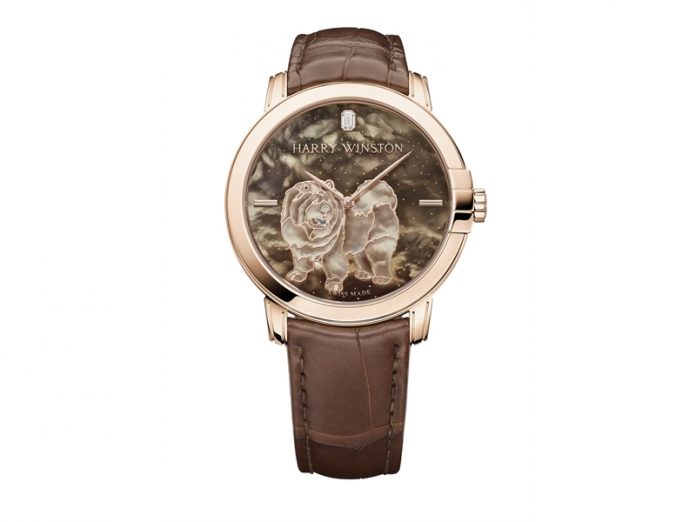 Harry Winston is celebrating the Year of the Dog with a charming Chow Chow reimagined on a timepiece dial through the refined art of mother-of-pearl marquetry. A limited-edition design, the watches showcase the jeweller's unmatched artistry.
According to Harry Winston, the dog is regarded as an auspicious animal in Chinese culture. The Chinese believe that a dog entering a house symbolises good fortune while people born in the Year of the Dog are said to be loyal, good-natured and brave. Harry Winston selected a Chow Chow to grace the dial of its limited-edition his and hers 18-karat rose gold watches.
Limited to eight watches each for men and women, the Midnight 42mm and Premier 36mm Year of the Dog editions also pay homage to the number eight as the luckiest and most auspicious of numbers. The ladies' model is presented in a classic 36mm rose gold case from the Premier Collection and is embellished with 57 brilliant-cut diamonds on the case, two brilliant-cut diamond hour markers and a dazzling emerald-cut diamond crowning the dial.
The men's limited edition model is housed in an elegant 42mm rose gold case from the Midnight Collection, and also features an emerald-cut diamond at 12 o'clock, a nod to Winston's preferred diamond cut.
"The charming Chow Chow comes to life through mother-of-pearl marquetry, a demanding technique in which delicate pieces of mother-of-pearl are introduced to an underlying gold base. Harry Winston's artists relied on skills, usually reserved for enamelling, to 'paint' the dial with mother-of-pearl," the company said.
News Source : jewellerynewsasia.com