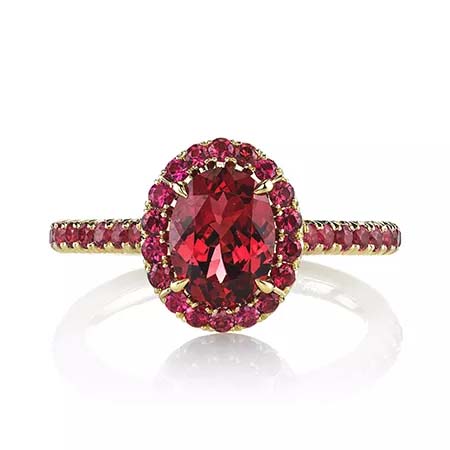 The spinels in this ring look so juicy that onlookers may struggle trying not to dive in! That's because Omi Gems' 1.48 ct. oval-shape center stone and smaller surrounding stones are such special shades of red—not too pink, and rivaling those of a ruby with a pigeon's blood moniker. And given that the gems are less rare than fine rubies, their prices are more within reach, making this $8,000 ring a bargain to behold.
Ring in 18k yellow gold with a 1.48 ct. oval-shape red spinel and 0.56 ct. t.w. round red spinels, $8,000
The Style 360 blog is your editorial source for the newest jewelry, trends, fashion, market analysis, trade show insights, designer's profiles, and more.
News Source : JCKOnline.com