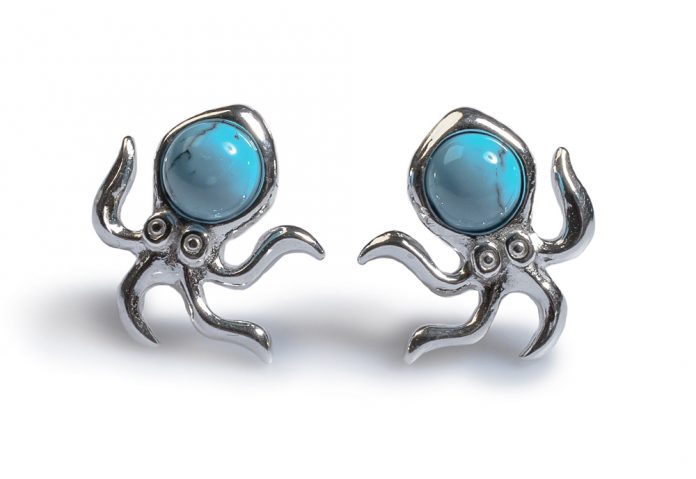 Nature-inspired jewellery brand Henryka has underlined its dedication to protecting the oceans with a range of sea-themed jewellery.
The brand's latest range marks World Oceans Day, taking place on June 8.
Following the success of TV the series Blue Planet II, Henryka has seen a marked increase in sales of its ocean-themed jewellery designs, part of its All Creatures Great & Small Collection.
Highlights include a turtle necklace, available with a cognac amber or turquoise body encased in a sterling silver shell, and octopus stud earrings, also available in turquoise or cognac amber.
In response to the success of these pieces, Henryka is now expanding its All Creatures Great & Small Collection to include further sea-themed designs. Among the new designs launching later this year are a pair of seahorse stud earrings, which are expected to be quick best-sellers.
Henryka will also mark World Oceans Day by reaffirming its commitment to reducing plastic waste at its own-brand boutique in Hereford and through its dealings with its retail partners, which now number close to 80 independent jewellery retailers, nature reserves and garden centres.
Henryka has partnered with local Herefordshire business, Pedicargo, to ensure all its paper, card and plastics are collected by bikes in a bid to reduce its overall carbon footprint.
The brand also reduced the amount of plastic used in its packaging during a complete overhaul in the summer of 2017.
Henryka founder, Anna Emmett, said: "Rather than being a fad, protecting and preserving the oceans is essential for the future of our planet. As a nature-inspired brand, our focus is on the great British countryside, but also the animals that make our coastlines and seas so diverse. For World Oceans Day, we will be showcasing our sea-inspired ranges and securing feedback to grow our collections. Blue Planet II has been a huge catalyst and we look forward to doing more environmentally-friendly work in the future."
News Source : professionaljeweller.com