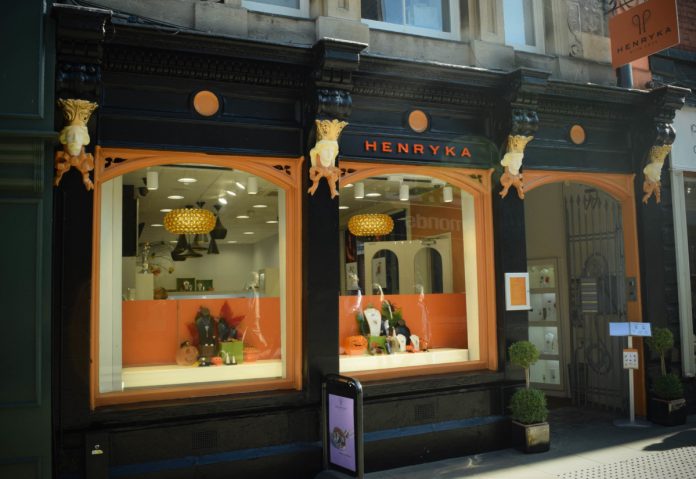 Fast-growing silver and natural gemstone jewellery brand Henryka has transformed the interior and exterior of its own-brand boutique in Hereford to accommodate its new brand identity.
Unveiled earlier this year, Henryka refreshed its brand strategy with a bohemian-inspired orange and black colour palette, new marketing materials, point-of-sale displays and a dedicated retail support package.
The boutique exterior has been overhauled from duck egg blue to black with bold orange-framed window displays.
The interior refit was designed to introduce a lightness and brightness to the 540sqft space with white gloss cabinets and display units.
Rather than locking jewellery behind glass, Henryka has opted to keep pieces accessible and allows customers to look, feel and try on at their leisure.
Additional design features include bead-like light fixtures in a golden-amber shade, colourful accent walls, geometric shelving units and visual merchandising props inspired by the brand's nature-themed collections.
Opened in 2010, Henryka's high street boutique has proved instrumental in supporting the brand's recent expansion into wholesale, giving founder and director Anna Emmett the opportunity to trial collections with her loyal local customer base.
Emmett commented: "Hereford is our home and we are incredibly proud of the high street presence and customer loyalty we have developed in the area. Our boutique gives us a competitive advantage by allowing us to trial new ranges and gather real-time feedback from our regular customers.
"Now, our boutique is perfectly in-line with the brand identity we unveiled earlier this year. Stepping into our store is now akin to stepping into the Henryka universe, taking customers on a journey through our inspirations, ethos and design journey."
An official launch party for the refreshed boutique will take place on November 17.