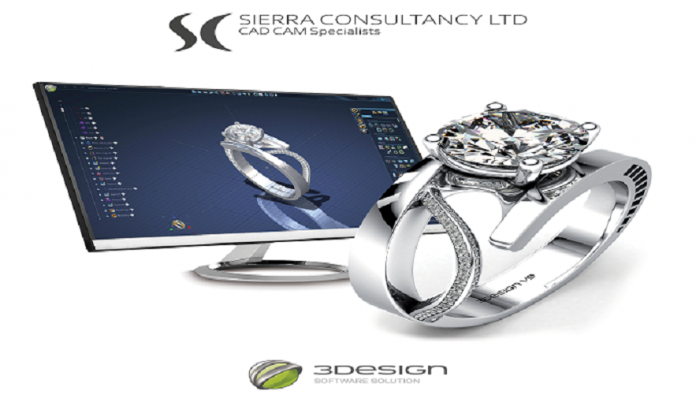 As 3Design prepares to showcase its latest offer at Jewellery & Watch with the team at HS Walsh, the company shares how it has been benefiting businesses in the trade for over 20 year.
Since 1999, 3Design has helped bridge the gap between jewellery designers, retailers and the customer.
As the first jewellery Computer Aided Design software to establish its roots in parametric/associative technology, 3Design users automatically save every parameter of their design in a History Tree. These parameters can be modified at any stage of the design process, without having to start from scratch. Not only is this ideal from a sales perspective, but thanks to its user-friendly and visual interface, the customer can feel as though they are a part of the design process too.
The company's organic modelling, 3Shaper and rendering system, DeepImage have become invaluable additions to the software.
Growing from strength-to-strength, 3Design celebrated its 20th in September 2019 with many wishes from around the world.
Always looking to improve though, Version 10 will be released later this year.
Who is the company behind 3Design?
Sierra Consultancy Ltd is the official re-seller for 3Design in the UK and Ireland. Type3, the software division of the Gravotech group in France, are the creators of 3Design.
With over 11 years of proficiency inType3 products, director Pooja Sahny speaks from experience: "Coming from a jewellery background and having worked at the bench, I understand how overwhelming it can be to enter the world of CAD. When I was studying to be a goldsmith, CAD courses were not readily available. After much research I decided to go to GIA London. This was my first experience.
"Students today are extremely fortunate to have a variety of software to choose from, as well as the ability to learn in school and in the workplace. My advice to anyone looking to become a jewellery CAD designer is, chose a professional software you feel comfortable with, give yourself time to make mistakes and practice, practice, practice. These are the reasons why I chose to work with 3Design. I believed in it, I understood it and have seen it mature over the years."
Sierra Consultancy offers numerous 3Design Taster Days throughout the year that trade professionals can sign up for to get a feel for the software.
Having recently formed a partnership with H S Walsh & Sons Ltd, Sierra Consultancy explains: "This new partnership will give 3Design a stronger presence in two important jewellery quarters in the UK- London and Birmingham. The team at H S Walsh are professional, dedicated and enthusiastic about technology, all the qualities you could ask for in a partner."
Together they will be at Jewellery & Watch 2020 from February 2-6 at the NEC Birmingham in Hall 1, Stand D72-E73.
News Source: professionaljeweller