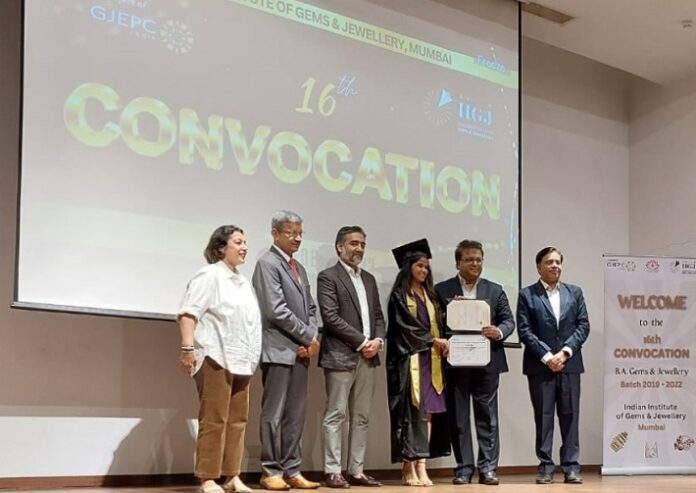 The Indian Institute of Gems & Jewellery, Mumbai, an initiative under the Gem & Jewellery Export Promotion Council (GJEPC), celebrated its 16th Convocation Ceremony, recognising and honouring the achievements of 36 graduating students, who completed the rigorous 3-year B.A. in Gems & Jewellery programme.
The prestigious event featured Chief Guest Somasundaram PR, Regional CEO of the World Gold Council, who presented certificates and trophies to the distinguished group of graduates. He was accompanied on the dais by Milan Chokshi, Chairman of IIGJ; Leena Amin, National Training Manager at De Beers Forevermark; Debasish Biswas, Chief Executive Officer of IIGJ; and Bharat Vaswani, Head of Institute, IIGJ Mumbai.
In recognition of outstanding academic performance, Lucky Choudhari was awarded the title of Best Student in the batch, while the 1st Runner Up prize was bestowed upon Diya Rathod, and Shreya Pawar was honoured as the 2nd Runner Up.
Commending IIGJ for the event, Somasundaram PR urged students to seize the abundant opportunities in the gem & jewellery industry. He presented a global perspective, emphasizing gold's enduring appeal as an investment not only in India and China but also in countries like Germany. Discussing the transformation from the days of the Gold Control Act to the present, he stressed the need to leverage the India's emphasis on technology, education, and skills.
Somasundaram encouraged students to innovate by creating smart jewellery that merges intelligent design with health benefits and tracking capabilities. He emphasised that India should be a jeweller to the world and showcase its skills in both domestic and international markets.
Imparting words of advice, Milan Chokshi shared valuable insights, "Ensure that whatever you create or whichever business you embark on bears your distinctive signature. In an industry saturated with homogeneity and generic products, strive to build something uniquely your own. I urge all of you to maintain a connection with the institute, stay in touch with the faculty, and support future students in any way you can. Your contributions will greatly enrich the industry."
During his address, Debasish Biswas encouraged the graduates to take pride in the institute where they spent their formative years. He also advised students to embrace a trait akin to a sponge during their initial years in the workforce, allowing them to absorb knowledge and maintain a steep learning curve.
Congratulating the graduates, Leena Amin stressed on the importance of "3 Ps". She noted that designers must harbour a deep passion about their profession; cultivate a personal identity in terms of design identification; and take pride in their work.
"After three years of a splendid journey, we are thrilled that you have successfully graduated. Now is the time to believe in yourselves and promote Brand India," Bharat Vaswani said in his thank you note. "Compete with yourselves, and rest assured, we have faith in you. You will undoubtedly make us proud in your careers."