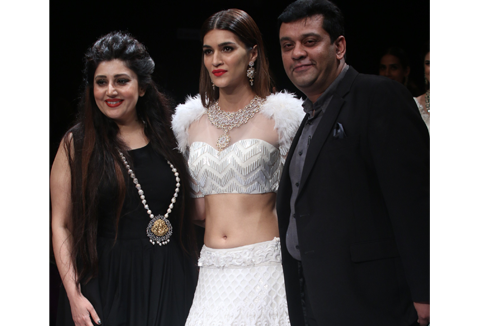 The India International Jewellery Week 2017 (IIJW 2017) got off to a dazzling start on Saturday, with the Inaugural Show by Nakshatra World presenting a stunning collection of jewellery to an audience that included Chief Guest Mrs. Amruta Fadnavis, wife of Hon. Maharashtra Chief Minister Mr. Devendra Fadnavis and other dignitaries from the GJEPC and the trade.
IIJW 2017, presented by GJEPC and powered by GIA is being held at the St Regis Hotel, Mumbai on September 23-24, 2017. The show opened with the lighting of the lamp by the Chief Guest accompanied by Praveenshankar Pandya, Chairman, GJEPC, Ms. Nirupa Bhatt (MD – GIA in India & Middle East), Mehul Choksi (Chairman, Gitanjali Group) and Shailesh Sangani (Convener, PMBD, GJEPC).
Welcoming the participants and members of the audience, Chairman Pandya said that the show was "in sync with the Prime Minister's vision of showcasing the best of Indian creativity and craftsmanship to global customers".
He added that "IIJW is an extravaganza, a celebration and a bonanza for jewellery lovers who can get a sneak preview of the most extraordinary, exquisite and extravagant collections for this festive season".
Pandya noted that the GJEPC is now focused on developing exports of jewellery from India to enable the country become the world leader in the field by 2022. He expressed confidence that with the support of the Maharashtra government, India's first jewellery park, an initiative that would help in the modernizing of a traditional industry and make it a powerhouse of export led growth, would soon come up on the outskirts of Mumbai.
Smt Fadnavis said that India has given the world many unique and world famous things such as spices, Yoga and others, and expressed confidence that Indian jewellery would soon be another category that would win recognition across the world.
The IIJW then commenced with a scintillating show presented by Nakshatra World, well known for its fabulous line of branded jewellery such as Nakshatra, Gili, Asmi, Sangini, Diya and others, that suits every requirement in ornaments. There were two sequences – the first that began with a stunning salsa and tango presented by the dynamic and graceful Sandip Soparrkar, ace dance expert and top model Alesia Raut, both wearing some impressive diamond jewellery.
It was followed by a lavish display of exquisite jewellery pieces – tasseled ruby pendants, cascading neckpieces, flat diamond and emerald geometric collars, lacy necklaces with pearls and ruby accents and the diamond choker with a lacy, flowing, bib were mind-boggling. Gorgeous sapphires, pear shaped giant emeralds and scalloped diamond creations created an unending line of beauty and jewellery.
The second sequence began with a trio of Sufi dancers performing in perfect unison, before some more splendid bridal jewellery was unveiled. It included necklaces with uncut polkis, chandbalis, dual strands of diamonds, rubies and pearls; large 3-strand sets of uncut emeralds, mesmerising in their splendour and a pearl strand with a giant lotus pendant encrusted with diamonds which would be a perfect wedding ornament.
The glamorous creations by top designer Archana Kochhar were the perfect balance for the gorgeous bridal and festive jewellery.
Making a dramatic entrance at the end of the show was the popular, Bollywood beauty, Kriti Sanon who looked sensational wearing a splendid, lacy, gold flat necklace, bangle and earrings in yellow/white diamonds, with a centre pendant.
Taking a bow at the end of the Nakshatra show along with Archana Kochhar and Kriti Sanon was Mr Saurav Bhattacharya, Group President Nakshatra World. Kriti Sanon is the new face of Gili diamond jewellery.
Pic caption: Kriti Sanon, showstopper for Nakshatra World seen with Archana Kochhar and Saurav Bhattacharya
News Source: gjepc.org