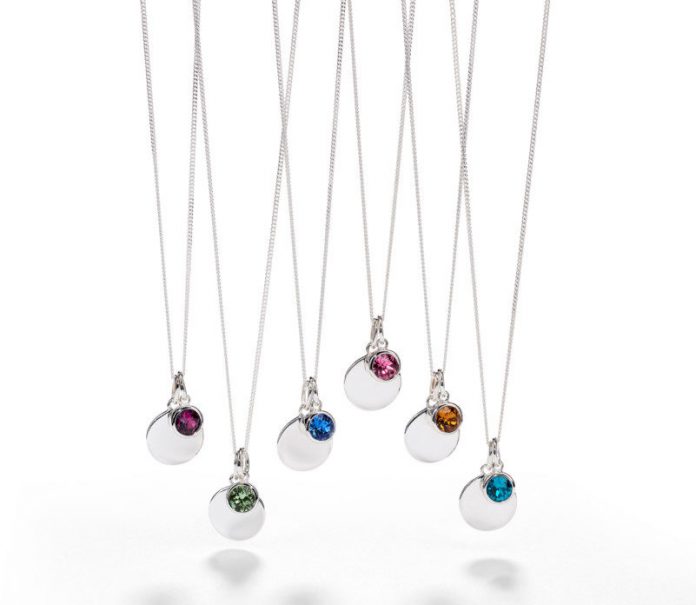 To date, the hallmarking figures compiled by the four UK assay offices reveal a strong performance from silver so far this year.
In January 2018, silver was the only metal to record an increase in the amount of articles hallmarked, citing a 29% lift, while in February the precious metal continued to outperform the rest, posting another 29% boost.
Furthermore, the annual hallmarking figures for last year show silver was the only metal to soar. While gold, platinum and palladium all posted a dip, the total number over silver articles hallmarked over the 12 months increased by 9.2%.
So while some in the industry claim silver, and indeed branded goods, has had its day, the hallmarking figures and insights from experts interviewed for this piece reveal a different story.
New Zealand jewellery brand Astra successfully launched into the UK market last year, opening over 100 accounts within the first eight weeks, and reporting a sell through so strong that the brand had to press pause on opening new doors so it could offer the best support to its debut partners. In 2018, Astra continues to perform well, and new designs have been positively received by retailers and customers alike.
2018 marks 235 years in business for Waterford Jewellery, and the brand shows no signs of slowing down with its sterling silver pieces performing exceptionally well so far this year.
British brands such as Kit Heath, Unique & Co, Henryka and Hot Diamonds have reported a strong in-take of new collections, with retailers investing in their products despite difficult times on the high street.
Head of commerce at the Hot Diamonds Group, Adyran Cresswell, tells Professional Jeweller: "Our spring 2018 sell-in has been on a par with spring 2017. The market seems soft, but our newness has been well received. Retailers might be keeping their stock levels tightly under control, but they are still happy to invest in strong newness to keep their ranges fresh and exciting."
"Sales for our silver collections were strong despite the more difficult market situation in general," adds Unique & Co founder, Daniel Ozel about the start of the year. "This is due to good sell through in shops and a positive feedback for the new spring collection. The key is the combination of good designs, great value for money and quality in the price segment until RRP £100."
Brands that sell mix metal items have said silver still remains a bestseller, while retailers say the precious metal still drives business in store.
"We offer a wide range of jewellery made from different precious metals for our customers to choose from, but silver jewellery has always been a popular choice and sales have remained steady over the last six to 12 months," shares Warrenders store manager John Kitchener. He continues: "We also stock a range of silver branded products and have recently noticed that the average sale price on silver purchases has increased as customers opt for branded silver items."
"Many of our silver brands have continued to do well, even in these challenging high street times" echoes Jo Stroud, owner of Fabulous Jewellers. "Brands like Thomas Sabo, ChloBo and our own brand, Mantra, are all strong."
WHAT'S HOT?
In terms of what's been selling well for brands and retailers over the last six to 12 months, necklaces and earrings have been outperforming rings, with consumers opting for a mixture of conservative styles and playful motifs.
Founder of the namesake Lincoln-based jewellery store, John Greed Jewellery, shares with us: "We specialise in selling mid-price silver jewellery mainly for the reason that it is an eternally strong category. The past 12 months have not disappointed."
The store owner adds: "Usually bestsellers can be quite conservative but I am happy to report that one of the best sellers from our ranges that we design in house is a Tyrannosaurus Rex necklace in an origami style. It is so much fun and very cool."
Consumers have also been opting for statement pieces — from larger than life hoops, to chunky necklaces and stacking bracelets to make an impact.
"Across all of our silver collections, customers are really liking anything which makes a bold statement, whether it is on an open piece or something more heavyweight, both have been popular," shares Gecko creative director, Desiree Pringle.
"Larger earrings have also been really popular which mirrors what has been happening on the catwalks for the past few seasons. Earrings continued to be a focus on the recent AW18 catwalks, and we anticipate this continuing to be an important trend for us for the rest of 2018," Pringle adds.
Elsewhere, brands such as Azendi and Thomas Sabo have reported an uplift in hoop sales, while Kit Heath has cited an increase in wristwear sales, and has designed more bracelets to encourage stacking and layering within its collections.
Azendi chief executive, Lynsey Cooke, reports: "In the last six months sterling silver hoop earrings have made a big comeback. We saw the demand for silver hoops grow and launched a range of sterling silver hoops in different sizes and designs."
Across the board, the industry has seen sterling silver jewels adorned with stones – from precious pearls, to sparkling Swarovski crystals – and geometric shapes continue to boom.
"We believe 'genuine sparkle' will serve us well over the summer months — by this we mean sparkle generated by semi-precious stones such as white topaz rather than simulated stones," remarks Cresswell from Hot Diamonds. "Jewellers seem to be resonating positively with the fact that the Hot Diamonds brand does not use simulated stones but always uses genuine, precious materials."
Over at Thomas Sabo colour is also proving popular for the brand, alongside mixing and matching silver with gold-plated adornments.
In fact, many brands and retailers are noticing an increase in consumers playing with mixed metals.
ChloBo creative director, Chloe Moss, tells Professional Jeweller: "Gone are the days that mixing metals were a fashion faux-pas, the biggest trend of 2017/18 has been mixing sterling silver with rose and gold. Adding a few rose or gold pieces to a silver stack freshens up your style and gives your jewellery look added depth and flair. As our AW17 Inner Spirit mixed metal collection was our bestseller, it is evident that the ChloBo customer wants to mix and match their metals."
"We have seen a real growth in mixed metal this year," shares Stroud of Fabulous Jewellers, adding: "There has been a small decline in the popularity of rose gold, but when it is part of a two-tone design, with sterling silver, it has proven very popular."
She continues: "We have also seen a rise in the popularity of gold-plated sterling silver — this has been a real growth area this year. I see this as the real opportunity going forwards: people love the price-point of silver, but increasingly want the warmth and glamour of gold. I think the brands that do this well will really thrive."
Yellow gold has increased in popularity across the board, notably as fashion icon and British consumer influencer Meghan Markle has been snapped wearing gold-plated rings by Missoma, and a yellow gold engagement ring from Prince Harry.
Testament to its popularity in the fashion market, jewellery giant Pandora launched 'Pandora Shine' at the beginning of the year, a collection of affordable 18ct gold-plated on sterling silver jewellery.
"Yellow Gold is coming back into fashion so there is a lot more yellow gold plated silver coming through but in trendy, fashion-led designs," says John Greed, with Moss from ChloBo adding: "Already in high street fashion and across the catwalks we have seen the return of soft yellow gold. From gold hoop earrings to dainty gold rings, we suspect an increase in popularity due to its tonal ability to warm certain skin tones and add a shine to any summer wardrobe."
LET'S GET PERSONAL
As with every sector in the industry, personalised jewellery continues to command the attention of shoppers, and this trend is not going anywhere.
In the fashion market, brands have seen an uplift in sales of jewellery with spiritual and philosophical elements.
"Over the past six months we have seen the wellness trend become more popular which spiked an even higher demand for our Chakra and Healing Stone collections," shares Daisy London account manager, Beth Swan.
"I think the wellness and personalisation trend will remain popular and continue to grow but lately we've been noticing a rise in the demand for more colourful jewellery. Now we are that little bit closer to summer with all of these bank holidays on the horizon I think many are ready to complement their glowing skin with a bright gemstone. At Daisy, this has caused our newest collection, Healing Stones, to really hit the ground running."
For Henryka, sales for its spiritual-inspired Zen collection soared when it launched in September, and now it is one of the British brand's bestsellers.
"Undoubtedly the biggest trend of the last six months for us has been the rise and rise of spiritual-inspired jewellery," says Henryka founder and director, Anna Emmett. "Our Zen collection with hamsa, dreamcatcher, evil eye and lotus flower motifs has proved that our customers want something feminine, eye-catching and meaningful. I believe it is this trend that has now morphed into the rush for healing stone and chakra jewellery. The one has informed the other."
Alongside female consumers investing in pieces that represent something deep inside of them, the Hollywood #TimesUp campaign has also sparked demand for pieces that encourage women to dream big and feel confident.
Richard Bulgin, the owner of Astra Jewellery's UK distribution company, Jos Von Arx, explains: "2018 marks 100 years since women got the vote year in the UK, and it is the #TimessUp campaign year. We believe a strong trend this year will be jewellery that encourages women to dream, to achieve, to see no limits, and the Astra Freedom range does just that. Necklaces such as 'dream and believe', 'follow your dreams', 'escape the ordinary', 'find your direction', and 'do what you love".' This range is about finding your Astra Freedom story." Charms have also made a comeback this year, with some brands such as Monica Vinader tapping into charms for the very first time, and others launching new charms designed with millennial shoppers in mind. Most notably, at the start of the year Thomas Sabo revamped its Charm Club collection to meet new market demands.
Named the 'Generation Charm Club', Thomas Sabo reinvented the world of charms with a new campaign and product offering suitable for today's fashion-savvy consumer.
"The launch of Generation Charm Club is a reimagination of the charm business, a fusion between charms and jewellery giving the customer more scope to create personal, bespoke pieces for the neck as well as the wrist," explains Thomas Sabo UK managing director, Jon Crossick. "It has been very successful and our current bestsellers come from this collection."
Elsewhere, classic personal touches such as engraving, birthstones, star sign motifs and meaningful lockets still shine in the silver jewellery market.
Azendi, for example, has had great success with its Birthstone Flowers collection, while Unique & Co's Zodiac range continues to be a bestseller, and Gecko is offering free engraving to its customers this past season to capitalise on the trend. John Greed summerises: "Personalisation is a huge part of our business both in composable jewellery systems and in actually engraving onto the jewellery itself.
"There are always two types of customer. those that want their own message and those that want to choose from a range of suggested messages. People like to personalise their jewellery for different reasons, some people want other people to see their personal messages and some people just want jewellery personalised just for themselves, bereavement messages often fall into the latter category."
WHAT'S NEXT?
When asked what the future holds for silver jewellery, the owner of Fabulous Jewellers, Jo Stroud, says the future is bright for brands capitalising on the personalisation trend.
She remarks: "I think we are in for a tough year generally on the high street, with far less disposable income around. So, I think the brands that will do best are the ones that represent meaning and sentiment, and are made to last. This will help brands that are made of precious metals, like sterling silver, as opposed to costume brands; and brands that communicate a powerful message to the wearer."
Many Professional Jeweller spoke to mentioned that the price of silver jewellery puts it in good stead for the future. If price points are right, silver jewellery has the power to be an impulse purchase, a gift for a loved one, or a collectable item.
"Until the national average salary triples, silver has a very bright future," shares Waterford's UK distributor Pearce Curran, with Pringle from Gecko adding: "Silver will continue to be important in the jewellery market as it offers affordable luxe. The fact that it is often plated in real gold ups the perceived value even more as it actually looks like gold. While the price of gold is going down and it is nowhere near the highs we saw a few years ago, it is still not accessible for some which makes it even more important to have a good offering in silver."
Diane Hall of Dower & Hall affirms: "With affordable price points and the opportunity for truly creative design I think there will always be a place for silver jewellery."
While the price point gives silver an advantage though, there is no denying the market is tough across the board, and silver suppliers are no exception.
That being said, if brands continue to innovate, create newness, and inspire the consumer to buy, the sales should come in.
"I believe the future for silver jewellery is very exciting," says Cresswell from Hot Diamonds.
He continues: "It's a tough market. This means brands will need to work harder than ever to attract consumers with exceptional designs and innovation. This will result in an influx of exceptionally strong creativity hitting the market in the coming months."
Thomas Sabo's managing director, Jon Crossick, concludes: "Silver jewellery will continue to be as strong as ever as long as the need for innovation is met and current trends are recognised. What we are seeing more and more however is that newness drives business, constant updating of product lines are key, this is not a moment to stand still."
News Source : prefessionaljeweller.com