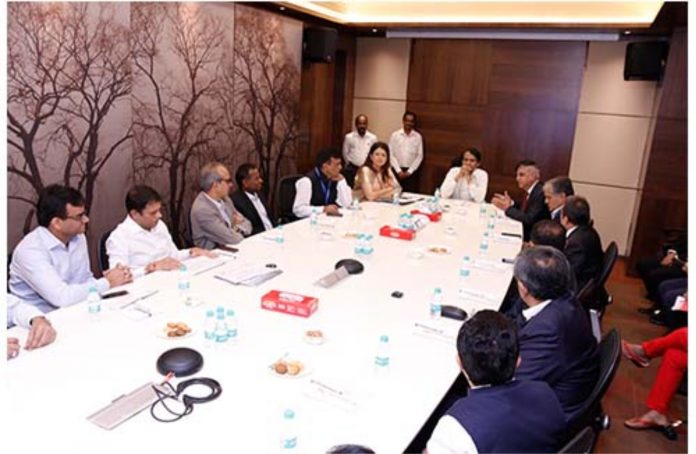 The Hon'ble Union Minister for Commerce & Industry, Shri Suresh Prabhu paid his maiden visit to the offices of The Gem & Jewellery Export Promotion Council and the Bharat Diamond Bourse yesterday and interacted with a delegation from the trade comprising committee members of the GJEPC and BDB. Also present the occasion were Addl DGFT Dr Sonia Sethi, IAS and other government officials.
During his presentation to the minister, who has recently assumed charge of this portfolio, GJEPC Chairman Praveenshankar Pandya outlined the achievements of each of the different segments of the industry and their contribution to the economy, while also raising some pertinent concerns and challenges, and recommendations on each of the points.
For the diamond sector, he focused attention on the need for a presumptive taxation system and a policy to allow job work, as well as the implementation of MEIS. He also spoke of the need for support from banks to finance the trade.
Similarly, for the gold and gold jewellery sector, the need was to reduce the high import duty on gold from the current 10% to 4%. Chairman said that the higher rates were in fact indirectly leading to unscrupulous trade practices and hampering the trade. He also requested the government to ensure easy availability of duty free gold for exporters as well as adequate credit /working capital for MSME companies.
In his presentation, the Chairman mooted the need for setting up jewellery parks across the country to provide skilled artisans and those in small, unorganised handmade production units with access to modern technology.
He also stressed the need for generic promotion of both diamonds and jewellery that is manufactured in India as this will boost exports and employment and asked the minister to ensure that search & seizure operations by the authorities need to be halted for the gems and jewellery industry.
Requesting the minister to ensure that there is steady and uninterrupted supply of raw materials to the coloured gemstone sector so that they can remain competitive, Pandya also said that there was a need for support to technology upgradation and skill development initiatives.
Turning to the silver sector, the chairman requested that the duty should be on par with other metals; and silver jewellery must be nil rated under GST or taxed at not higher than the earlier indirect tax of 0.5% to 1%.
Responding to the presentation, Shri Prabhu said he would look into the issues raised with regard to the different sectors, and said that there was a need to strengthen design facilities and cultivate designers who could create products for international markets. He suggested that Council could organise a meeting of select leading retailers from the key global markets, adding that if the industry was to achieve the vision of US$ 60 billion of exports it needed to look beyond the NRIs and Indian diaspora globally and tap new markets.
Pic caption: Union minister Shri Suresh Prabhu holding discussions with gem and jewellery exporters in Mumbai
News Source: gjepc.org