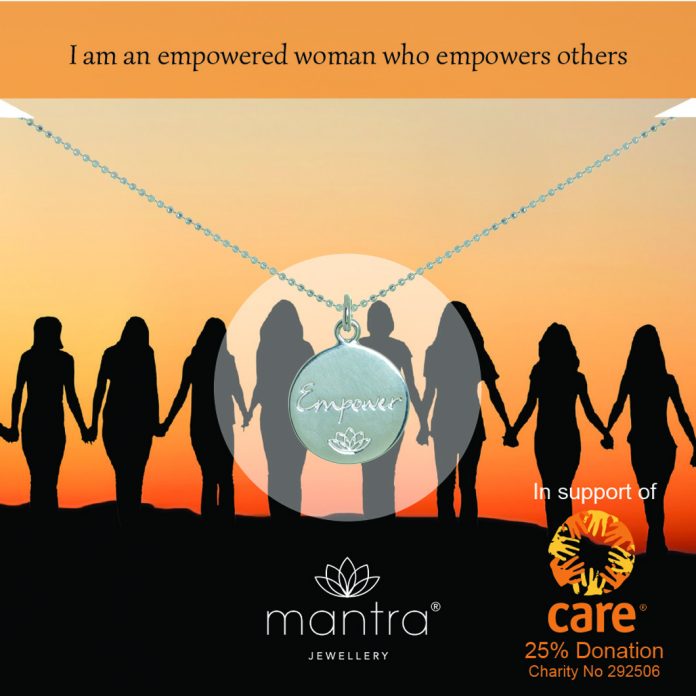 Mantra Jewellery has added a new necklace to its fundraising collection 'Mantra Changes Lives',
Each piece in the Mantra Changes Lives range raises money and awareness for a different cause and charity, with the latest championing female empowerment in partnership with Care International UK.
The latest piece by Mantra, which creates meaningful jewellery designed to uplift and inspire, features the word 'Empower' engraved the brand's signature lotus on a disc. The piece comes with the inspirational mantra, 'I am an empowered woman who empowers others'.
Jo Stroud, Founder of Mantra Jewellery, explains the thinking behind the new piece: "A mantra is a powerful statement, intended to make a positive impact on the way that you feel. We see this mantra as a rallying call and statement of support, for women across the globe. Now is the time to call for gender equality throughout the world, as families, friends, colleagues and whole communities think, act and become gender inclusive."
25% of proceeds from the 'Empower' necklace goes to Care International UK, a charity which stands with women, girls and their communities to achieve lasting change for a better future.
Care puts women and girls at the centre, because they know we cannot overcome poverty until all people have equal rights and opportunities.
Natalie Reid, fundraising executive for Care International UK, shares: "We empower women and girls to fulfil their potential – because when one woman is helped out of poverty, she brings her family and community with her. Empowerment for all women is an essential aim, to enable women to exercise their rights to a secure and prosperous life. We are delighted with this kind support from Mantra Jewellery, and this unique opportunity for a different approach to get this message across."
News Source : professionaljeweller.com