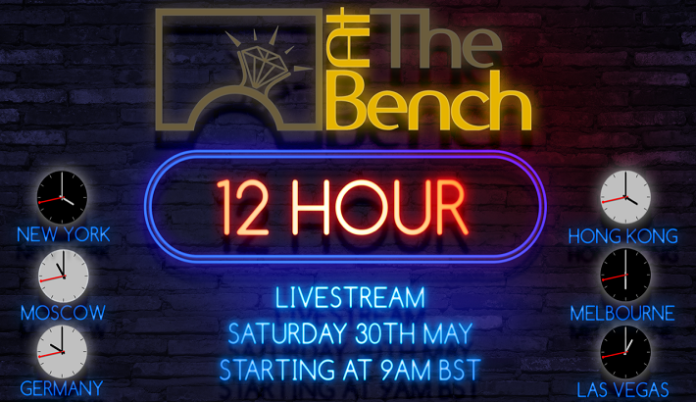 An independent jeweller plans to host a 12-hour Livestream on Saturday, May 30.
Continuing to utilise the power of digital connections during the lockdown, Andrew Berry – of the namesake jewellers in Wales – will be live on YouTube for 12 hours straight, demonstrating tools and techniques, and sharing the best secrets he has learnt over 30 years in the jewellery making industry.
Engaging potential viewers before the event, Andrew Berry asked his customers and social media followers to fill out a questionnaire to determine what they might want to see during the Livestream marathon.
"We have been working hard to determine which techniques to demonstrate during the day, we have collected over 700 responses to a questionnaire where we asked viewers what their preferences were in terms of techniques they wanted to see and the time they wanted to watch. All this data has been used to produce the time table for the day shown below," Berry shares.
The live demonstrations are going to be roughly an hour's duration, and there will be giveaways all day.
Prizes include tools from jewellery suppliers from around the world such as Kernowcraft, Otto Frei, Durston Tools, GRS, and Busch Burs, as well as At The Bench merchandise such as T-Shirts, Aprons, Mouse Mats, Mugs as well as discounted membership if taken out on the day.
To end the event, Andrew Berry will be giving away a Durston Rolling Mill worth £1,000 to one lucky winner.
To be in with a chance of winning one of the amazing prizes the entrant must be a subscriber of At The Bench/AndrewBerryJewellery on YouTube. Watch the Livestream video (from 9 am on Saturday, May 30) HERE.
For trade professionals wanting to join, here's a timetable of the day:
9 am Introduction with Q and A's
A chat about the day ahead with some technical Q&A's
10 am Polishing
Taking you through the tools and equipment needed to get the best polish on your items with special attention to unusual shaped pieces.
11 am Soldering
Talking you through the basic items needed to solder at the bench covering different styles of soldering and hints and tips on getting the best solder joint ever.
12 pm Lunch and Learn
Louise and Andrew sit down for some lunch and chat about Social Media, Marketing and what they have learned about advertising and websites during this lockdown period.
1 pm Texturing
Using burrs, hammers, nails, and anything you can get your hands on to make your mark on metal.
2 pm Rolling Mill
All about rolling mills, how to use it, and how to look after it.
3 pm Forming
Covering different techniques including bending, shaping, hammering.
4 pm Q and A's
Get your questions ready for Andrew and Louise.
5 pm Bezel Setting
How to make the best bezel, how to solder it and how to set your stone. Lots to demonstrate and lots of tips to be learned.
6 pm Q & A's
Another hour of Q&A's
7 pm Cuttlefish/Delft Clay Casting
Time to liven it up with some actual live casting using cuttlefish and Delft Clay.
8 pm Roundup
If Andrew has a voice left he and Louise will be chatting about the past 11 hours and welcome comments on the days live demonstrations.
8:30 pm Rolling Mill giveaway
NewsSource: professionaljeweller