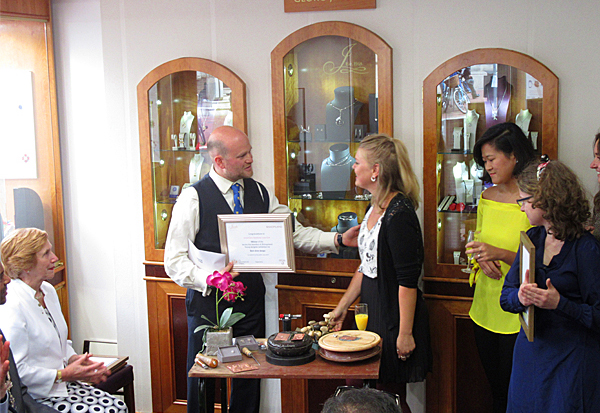 The competition attracted a record number of public votes over 200 votes were cast, more than double the previous year. The public vote saw Rebecca Burt claim first place in the jewellery competition with Olivia Cosh Hall claiming second place.
In the silver competition, Annemarie Reinhold's leaf dish earned her the top prize while Rachel Hewison's bird bowl secured her second place.
Adam Jacobs, owner of Jacobs the Jewellers, said: "This year's competition has been simply amazing. A record number of votes for an inspiring group of individuals. Thank you to the Bishopsland team, our co-sponsors and customers for all their passion and enthusiasm. Artistic spirit is alive and well within jewellery and silversmith talent in Reading."
While first prize winners received £350 worth of vouchers to spend on tools or materials to help establish their careers in the jewellery and silver industry, second prize winners similarly received vouchers worth £150. Both received framed presentation certificates.
The awards ceremony, held at the Reading-based Jacobs the Jewellers store was attended by members of the jewellery trade as well as the local council, including deputy mayor of Reading, Councillor Glenn Dennis; Judith Cobham Lowe, prime warden of the Goldsmiths' Company; Patrick Sheehan, director of HS Walsh; Penelope and Oliver Makower, principle and vice-principal of Bishopsland (respectively).
Bishopsland vice-principal, Makower, said: "Bishopsland is extremely grateful to Jacobs the Jewellers, supported by the Goldsmiths Company of London and H S Walsh for promoting this inspiring competition for young silversmiths and jewellers who have taken part in this event."
Cobham-Lowe added: "The Goldsmiths' Company is delighted to be supporting this year's Young Designer Competition organised by Jacobs the Jewellers and Bishopsland. It's a wonderful initiative backing young silversmiths and jewellers. I'd like to congratulate the winners and everyone involved in the competition."
News Source: professionaljeweller.com