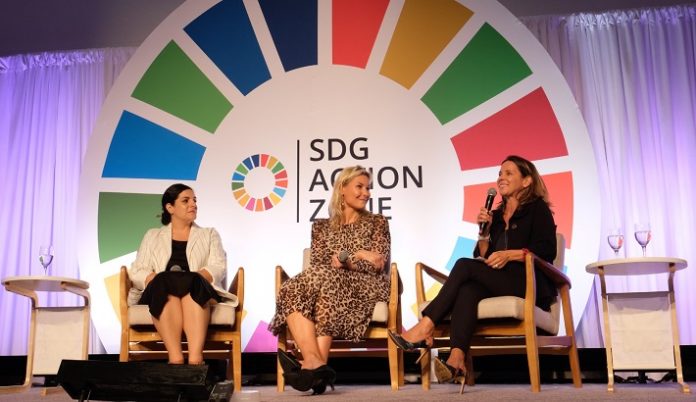 Swarovski has partnered with fashion sustainability non-profit, Study Hall, and the United Nations Office for Partnerships (UNOP) to launch 'One X One', a new global sustainability initiative designed to foster collaboration, create positive impact and drive lasting change in the fashion industry.
Part fellowship, part accelerator, One X One aims to empower three key partnerships in its inaugural year by pairing emerging designers with innovators focusing on sustainable practices in materials, manufacturing and consumption.
The program's ethos and mission is around the idea of partnership, illustrating two worlds coming together; the "X", commonly denoting a brand collaboration, also implies the multiplication of impact that can happen when people and companies join forces.
Supported by the One X One team, which includes members from Swarovski, UNOP and Study Hall, participants will receive grants to empower their emerging innovations and inspire the industry. Teams will work together to define a creative project, product or process that highlights their organisation's expertise, supported by an advisory committee of iconic global figures in the fashion and sustainability space.
The project pairings will be curated in alignment with the UN Sustainable Development Goals and will deliver on a core mission to follow Study Hall's guiding principles, "Good for the Earth, Good for People."
A selection of participants will be chosen to reflect a breadth of activity across the major themes of Circularity, Technological Innovation and Human-Centered Design.
Member of the Swarovski executive board, Nadja Swarovski, comments: "As a brand with 125 years of history, driven by innovation, creative collaboration and responsible business practices, we are delighted to support this new global initiative to connect the talent of the future with the businesses and individuals who can help create dynamic impact and lasting change. The United Nations Office for Partnerships and Study Hall are the perfect partners for this global project and we look forward to announcing our exciting mentors for the full One X One program over the coming months, as we work together to shape the future of sustainable fashion."
The program will officially launch end of 2019, with collaborators working through the spring and summer of 2020.
The products, projects and creations that teams have produced will be documented and presented at a major program exposé in September 2020.
New Source : professionaljeweller