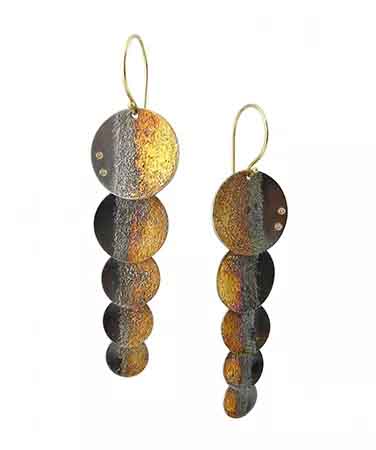 The drama is palpable in these moody-looking drop earrings from San Francisco–based Jenny Reeves! Her combination of light-, dark-, and warm-colored metals—all recycled, by the way—creates a dramatic effect in these nearly three-inch-long pieces. Made in oxidized silver and 18k and 23k gold, the pair is completed by a sprinkle of champagne-color diamonds, and the earrings are articulated to make them extra shimmery as they move. I'd love to add these haunting numbers to my personal collection, and at just $1,125 retail, they are not too far out of reach.
Shadow earrings in recycled oxidized silver and 18k and 23k gold with 0.04 ct. t.w. champagne-color diamonds, $1,125
The Style 360 blog is your editorial source for the newest jewelry, trends, fashion, market analysis, trade show insights, designer profiles, and more.
News Source : JCKOnline.com