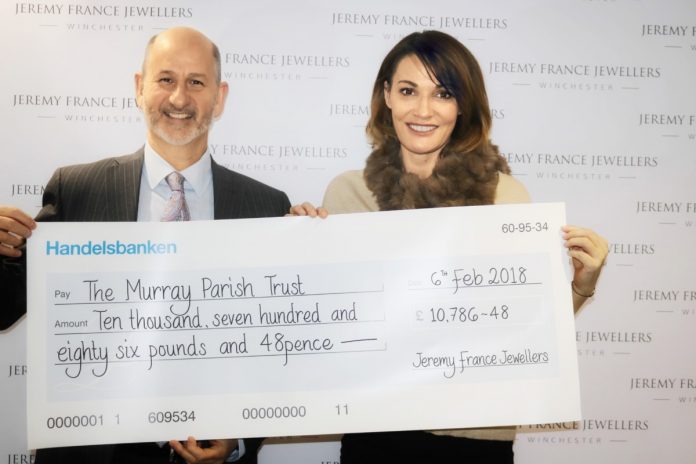 Winchester-based Jeremy France Jewellers has smashed its target to donate £10K to local charity, The Murray Parish Trust.
Since October 2016, the independent jewellery retailer has been taking charitable donations for all jewellery polishing, alongside holding in-store events and raffles to raise funds for the charity of choice.
Fundraising initiatives have included multiple VIP evenings in the retailer's three-story showroom, and store staff even scaled Snowdon to support the local charity.
Together, the retailer's 25-strong team have dedicated themselves in and out of work hours to help reach the target of £10K.
A little over a year later Jeremy France Jewellers has been able to donate nearly £11,000 to The Murray Parish Trust.
Founded in 2014 by married actors Sarah Parish and James Murray in memory of their daughter Ella-Jayne, who sadly passed away in 2009, The Murray Parish Trust endeavours to transform the department in which their baby daughter spent her last precious days. In partnership with Southampton Hospital Charity, they have made it their mission to raise £2 million in two years via their 2million steps campaign to create a state-of-the-art Paediatric Intensive Care Unit at Southampton General Hospital, which the government has promised to match.
So far, over £1 million has been raised towards the goal, with help from many local and national companies including the family-run Jeremy France Jewellers.
Owner, Jeremy France, has been based in Winchester since 1990, and has always made a very conscious effort to support local charities, especially ones that will directly impact the lives of his customers and staff alike.
France explains: "We were immediately touched by The Murray Parish Trust. We have a vested interest not only because we are a family run business, with 'family' at the heart of our values, but also many of our employees have children themselves. This is such a great campaign for children both locally and wider-spread, over the proposed nine counties that the trauma unit will cover. As a business, we have a conscious responsibility of course, but we pick the charities we choose to support very carefully. The Murray Parish Trust is a charity we collectively feel very passionately about".
On February 6 2018, Jeremy France presented a cheque for £10,786.48 to Sarah Parish, the total amount his team and customers have raised so far.
With nearly £1 million still to be to be raised, the family jewellers have already begun planning some more fundraising activities and events for the year ahead.
The Jeremy France team are are all immensely proud to have exceeded their personal target, and are hugely appreciative to their customers who have dug deep into their pockets to make it possible.
News Source : professionaljeweller.com