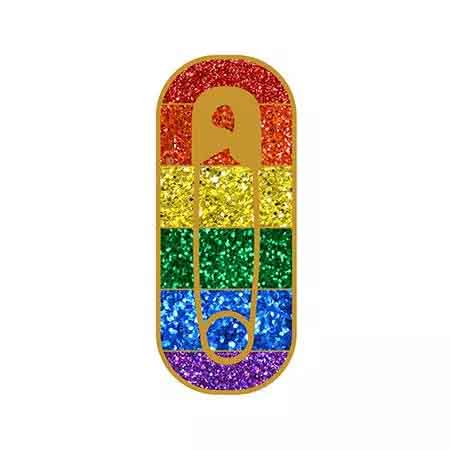 The utilitarian safety pin is in the spotlight, and the reason why isn't related to sewing or venerability among punk-rock devotees.
President-elect Donald Trump's fiery proclamations about illegal immigration and his disrespect for women paved the way for widespread fear of lawlessness in the wake of his administration—and for the simple safety pin to symbolize taking a stand for rightful behavior and respect for others. Wearing a safety pin signifies you are open-minded and anti-hate, that you respect minorities, immigrants, Muslims, and women.
The idea of wearing safety pins as a statement stems from the United Kingdom's Brexit vote—which prompted a spike in intolerant behavior—but it's also an offshoot of Australia's #illridewithyou movement, where people offered to take public transportation with Muslims "fearing a backlash after a Muslim gunman held people hostage in a cafe in 2014," according to the The New York Times. And since safety pins have long had a place in jewelry—from medieval times to the punk era of the 1970s to their introduction in Rosanne Karmes' Sydney Evan line 10 years ago—they're trending among progressives in jewelry.
Greenwich St. Jewelers' co-owner Jennifer Gandia isn't selling any safety pins in her lower Manhattan–based store, but she and her staffers are wearing them.
"It feels like a small gesture in solidarity," she explains. "It's a way to stand in solidarity with those who feel marginalized and scared."
Her customers aren't (yet) asking for safety pins, but Gandia hasn't ruled out stocking them. "We'll see if the safety pin endures or not," she says. "We're not big on jumping on things that are hot; I want to see if they have legs."
Meanwhile, Hannah Becker of Diamondoodles has pre-sold more than 100 safety pin buttons since the Saturday after the presidential election. She offers different base-metal pins with enamel in her Etsy shop and is donating $5 from each sale to six different nonprofits, including Planned Parenthood, the NAACP, and the Human Rights Campaign. Making the pins is a sort of "creative catharsis," she says, for the feelings of hopelessness and frustration she's experiencing post-election.
"The true purpose of the pin is to demonstrate an allegiance—to show that you are a safe person for anyone who feels threatened in our current climate," she continues.
For sure, wearing or creating a safety pin is one way to combat despair and inspire hope. "It's what I could do to take immediate action and use my skill set and be productive," says Becker. Another move? Calling up local representatives to voice opinions. That's what Gandia did to express her dismay over the president-elect's political appointments. "I'm hopeful," she says. "To see what is happening—for so many people to be speaking out—is amazing. I'm cautiously optimistic; things have to break down in order to break through."
Still, not everyone sees the present-day point in wearing a safety pin. Sydney Evan's Rosanne Karmes debuted hers 10 years ago as a novelty—nothing more. "I like fun things that make me smile," she says. "There's no meaning behind them, except to serve as a vehicle for my charms."
And though one retailer did request to stock some of her safety pins post-election, Karmes remains politically neutral. "My line is about love and protection," she says. Also crucial to Karmes: not being anti-anybody—Clinton or Trump. "We shouldn't attack others or unfriend people because of politics; what kind of message is that?"
News Source : JCKOnline.com