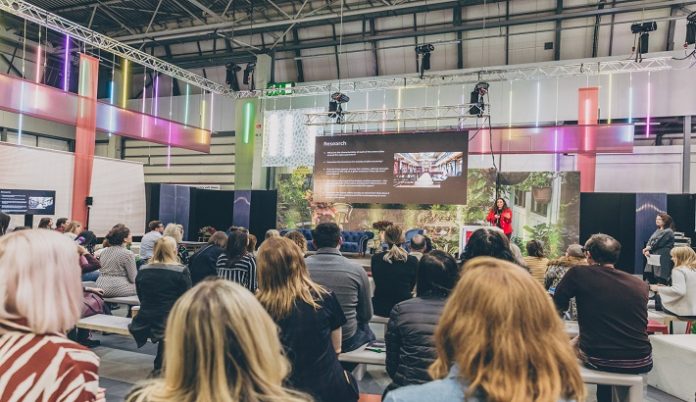 Visitors to Jewellery & Watch will have access to three theatre and workshop spaces in 2020, including the Inspiring Retail Stage, The Retail Skills Theatre and the new Design and Source Stage at NEC, Birmingham.
Drawing on the broad expertise of Spring Fair's diverse community, the 2020 Seminar Programme will benefit all kinds of businesses, including independent jewellery retailers, jewellery suppliers, emerging brand owners and established manufacturers.
Sustainability is a core theme of the 2020 Seminar Programme, with a wide range of speakers lined-up to tackle this growing area. On the Inspiring Retail Stage, located in Hall 6, a discussion on The Role of Retail in Building a Sustainable Future (11.30am-12pm) will be followed by Jeremy Corner, chairman of The Giftware Association, posing the question How Can You Be a Sustainable Retailer? (1.30pm-2pm) on Sunday, February 2.
On Tuesday, February 4, a panel discussion on Why Independents are Leading the Charge Towards Sustainable Retail (12pm-12.40pm) will no doubt draw crowds to the Inspiring Retail Stage, as will the Evolution of Sustainable Store Design (1.20pm-1.50pm), delivered by Karl McKeever, managing director and founder of Visual Thinking.
The theme of sustainability continues across the Design and Source Stage (Hall 19) and The Retail Skills Theatre (Hall 2). In the former, representatives from Waitrose and White Stuff Clothing will discuss Responsible Sourcing and Compliance (11.30am-12.15pm) on Tuesday, February 4, followed the next day by a talk on Sustainable Packaging Solutions (12.15pm-12.45pm) led by Simon Locke, sustainable design innovation manager for The Body Shop. On the last day of Jewellery & Watch, Dan Dicker, founder of ashortwalk, will take to the Design and Source Stage to consider how we can Use Today's Waste for Tomorrow's Products (11.30am-12pm).
The Inspiring Retail Stage will feature daily talks by Spring Fair trends partner, Colour Hive. Sam Donnachie, executive creative director, will share an overview of Colour Hive's Colour, Material & Finish Forecast for SS21, starting from 10.30am.
Independent jewellery retailers diversifying into giftware will not want to miss Trend Uncovered: Giftware Trends 2020-2021 (12.05pm-12.35pm), taking place on the Inspiring Retail Stage on Wednesday, February 5.
Two keynote talks are likely to draw the crowds, including In Conversation with TV personality Mary Berry (1pm-2pm) on Monday, February 3, and Why the Future of Business is Rooted in Kindness (2pm-3pm), led by 'Queen of Shops' Mary Portas on Tuesday, February 4.
And when it comes for independent jewellers looking for practical, business boosting advice, talks angled towards this will take place on all three stages. For example, Embedding Your Business in the Community, on Monday, February 3, will provide insights from four businesses owners on the Inspiring Retail Stage, closely followed by Filling the Gaps: Independents and Hope for the High Street (2.45pm.3.15pm) delivered by Michael Weedon, policy representative for West Midlands Federation for Small Businesses.
In The Retail Skills Theatre, Rebecca Day of Day HR Consultants will share The Skills and Behaviours of Successful Retail Teams (12pm-12.30pm), followed later that afternoon by a discussion on postage, delivery and Enhancing the Customer Experience in the Final Mile (2.10pm-2.40pm) on Sunday, February 2. The crucial need to stay abreast of customer expectations in ecommerce will also be addressed by James Hyde, CEO and founder of James & James eCommerce Fulfilment, in his talk on Managing Returns and Remaining Profitable (1.15pm-1.45pm) on Wednesday, February 5.
Spring Fair and Jewellery & Watch have prioritised market leading content in recent months to offer visitors, buyers and exhibitors access to free knowledge they can use to grow and enhance their businesses.
Other topics to be discussed across all three theatres and stages include visual merchandising, social media best practice, buying techniques, business negotiation, search engine optimisation, Google analytics, monetising social media and Google advertising.
News Source: professionaljeweller