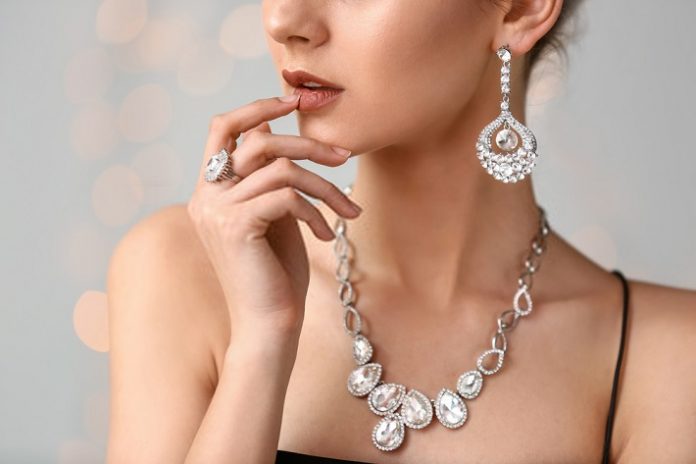 Jewelry Photo Retouching is a highly specialized skill. Boost your online business using this list of the best jewelry agencies along with an outsourcing guide!
Whether you're a photographer, online business, or a contractor, looking for photo retouching agencies can be a hassle. Especially for niches like jewelry photo retouching, which agency is the best anyway?
There are overwhelming numbers of companies to choose from. Do not worry! This article contains a list of the best of the best photo editing agencies. Based on comprehensive research, you can safely pick any one of these agencies to get your retouching work done.
Additionally, it contains a how-to guide for businesses or photographers new to outsourcing their photos. That's right, there is everything you need to know in order to outsource jewelry photo editing. Let's begin!
What is Jewelry Retouching?
Jewelry photography is a form of macro product photography, in which macro lenses are used for each and every shot. Macro lenses are typically capable of 10-20X magnification which captures a lot of particles and blemishes that are invisible to the naked eye. Microscopic details like fingerprints, smudges, oil stains, dust particles, scratches – all combine to depict a low quality image.
Even if the photo appears to be good, retouching reinvents the image to it's fully polished condition. Jewelry photo retouching is a process through which all the large and tiny details of the photograph are removed and polished to provide a clean, pristine appearance.
This retouching process includes but is not limited to – background removal, color correction, drop shadow and image masking with the help of high-end photo editing software like Photoshop and Lightroom. Using these software, specialized photo editing companies can completely redefine a jewelry photograph to make it appear brilliant and professional.
Why Do You Need to Edit Jewelry Photos for Online Businesses?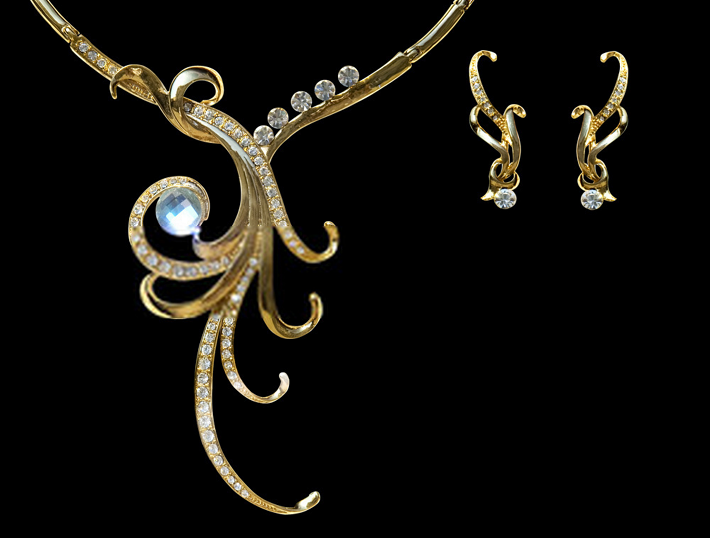 Regardless of how careful you are while shooting photographs, your photo will inevitably require retouching. Without jewelry photo editing or product photo editing in general, online sales can be severely affected. 75% of online shoppers rely on product photos before a potential purchase, making the quality of photographs a crucial factor for online businesses.
Additionally, the modernization and digitalization of the globe have made online businesses highly dependable on imagery. 62% of gen Z and millennials prefer visual search for online shopping.
Photo retouching is also required for realism. Your jewelry may appear slightly tinted or discolored in the picture, due to a wide variety of reasons like the camera, the lighting, or anything else. This mild inconsistency with the actual appearance of the product is enough for a customer to either return the jewelry piece or provide negative reviews.
According to a case study, 22% of online products have been returned because of these mild inconsistencies with reality. Photo retouching not only perfectionizes the photo, but also ensures that it's realistic at the same time – which is a skill quite difficult to master.
Thus, jewelry photo retouching is critical to ensure your photo quality. Don't believe us? 67% of shoppers say the quality of a product image is "very important" in selecting and making a purchase.
Who Provides Jewelry Photo Retouching Service Online?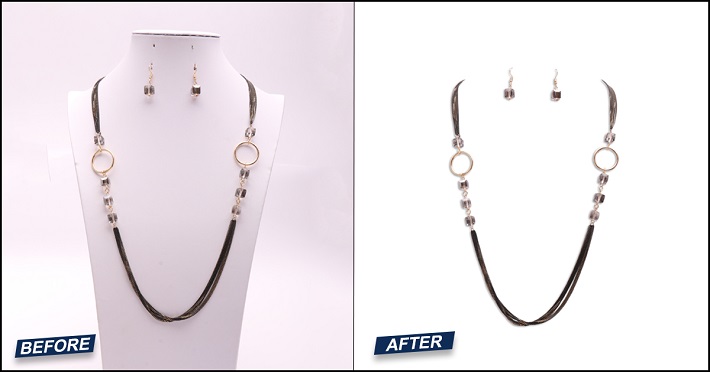 You could edit jewelry photos all by yourself which will have no cost. What would you have to invest in return? Time and energy. Learning critical jewelry photography editing is not a simple skill, which requires a high level of software specialization. To achieve that level, one needs to invest weeks and even months.
Let's say you finally achieve these skills. Should you still do all the jewelry photo retouching work by yourself? Nope. You shouldn't, especially If you're planning to run a business.
A business will require you to handle several aspects of it like planning, purchasing, selling, marketing, branding – all of which will already take up most of your time. The same applies to any kind of business, whether it be a photography business or a jewelry business. Editing hundreds and hundreds of photos alongside managing the business will not be a feasible choice in the long run.
Thus, it's better to just outsource your photos to a reputable jewelry photography post-production agency like the ones listed below. These companies have experts who edit thousands of photos on a daily basis, making the process cost-effective and quick.
Offshore Clipping Path
At the top of our list is a firm known as one of the best in the photo editing business. Offshore Clipping Path was founded in 2010 and now has a ginormous clientele list of over 1100 companies. Brands like 3M, Under Armour are a few of it's A-list clients.
It has a wide variety of photo editing services, starting from Retouching, Background Removal, Color Correction, Image Masking, Photo Restoration, and many more. You can safely rely on Offshore Clipping Path to polish your jewelry photographs to perfection, as it has a reputation for working in several product photography industries.
The pricing starts from $0.29 per image with plenty of free trial options.
Clipping Path Studio
'Wow' your customers with beautifully retouched photos! Clipping Path Studio is one of the few firms which is highly specialized in photo retouching. It also provides other services like  clipping path, Background Removal, Color Correction and Drop Shadows. However, photo retouching is its primary field of expertise.
Found in 2011, Clipping Path Studio has over 150 designers working tirelessly to serve a clientele list of 5000+ clients. You heard that right, over five thousand! Of course, the only thing that surpasses quantity is quality, which certainly ensures having Amazon, Walmart, and BigCommerce photographers in their client list.
Clipping Path Studio's pricing starts from $0.84 per image with several free trial options.
Cobwebs Design
Another competitor in the list, Cobwebs Design is an all-around photo editing agency which specializes in a wide variety of services. Starting from Clipping Path, Multi Clipping Path, Image Retouch, Photoshop Masking, Image Manipulation, Color Correction, Image Shadow – it does it all.
It is a Bangladeshi-based outsourcing agency with around 120 designers in the team. Like most of the other companies in this list, it has a large gallery page which contains a highlight of all their work.
It has a pricing of $0.39 per image and also has free trial features.
Fix The Photo
Fix The Photo was formed in 2003 with only one objective in mind – Jewelry Retouching. It is the only photo editing service which takes pride in its Jewelry retouching service over all other services. Edits like jewelry color correction and jewelry shadow creation are a few of its special attributes.
Its website features an incredible gallery of all their retouching work, both old and new. Having received the best agency award in 2020 by UpWork, you can certainly rely on this company to ensure quality. However, such great service comes with a cost.
Its jewelry retouching services start from $5 per image. That's nearly 15 times more than the other services on this list! Fix The Photo does not have any free trial options either. Needless to say, Fix The Photo is a highly reputable agency but may not be the most cost-effective option to sustain an online business.
Paper Boat Creative
Paper Boat Creative is another High-end photo retouching agency which has a professional portfolio from various sectors like Fashion, Architecture, Beauty, Kids, Corporate and Product photography.
It has a turnaround time of just 48 hours, making it one of the quickest turnaround times on this list. It is highly specialized in Jewelry photo retouching, providing services like dust cleaning, recolouring, color preservation etc.
Although Paper Boat Creative has a free demo option, it does not have any fixed pricing. For a quote, you must contact the agency through its website. For some, it may be a hassle to ask for custom quotes for each and every order.
How to Outsource Jewelry Photo Retouching Services
Before you outsource jewelry photo retouching work to photo editing services, there are certain factors which you must take into consideration. In this section, we will discuss those factors in the simplest manner possible.
Clientele
This is the first information you should attain before you make any purchase. The clientele of an agency will speak for their work before they do.
Some may have a client list published on its website; some may not have one for the client's privacy concerns. Either way, you should contact them to know about the client list. Reviewing the list and the type of work they have done for those clients will help you make an informed decision.
If you cannot recognize a particular client, a quick web search will tell you everything there is to know about the brand value of that company.
Onboarding process
Onboarding process refers to how a photography editing service accepts its clients. This process will ensure that you are able to send your requirements easily and that the company understands your requirements accurately to ensure smooth jewelry photography post-production.
The onboarding process can be online forms, tutorials, wizards, phone calls, digital meetings – everything and anything that the company follows. This process also may vary depending on the number of photos you send.
Regardless, you need to know about the onboarding process either through the information on their website or by contacting them and deciding whether the processes are suitable for you.
Employee Policy
Even though it is not a major concern, if you plan to use a company's service for a long period of time, you should learn about their employee policies. How do they treat their employees? How are they operating?
The status of an employee's happiness will tell you everything there is to know. In a study, 82.39% of employees say a lack of progression would influence the decision to leave their jobs. Even if new recruits get hired, the constant recruiting process affects the efficiency of a firm.
That's why it's best to learn about a company's internal policies before you choose one, as an agency with both a work-friendly and employee-friendly infrastructure can promise you to make long-term relationships.
Technology based system
Certain photo editing agencies have a technology based system to ensure efficiency and accurate turnaround times. As a client, this helps you to be sure of the delivery and quality of the work. As a company, it helps them to work much more smoothly.
However, a technology based system is merely a system; it does not guarantee efficiency or quality. Whichever system the company uses, it should be effective for you to review the images, ask for edits, submit feedback, add comments, check the status of the order etc.
It also helps in emergency situations like rushing an order for an extra cost and scaling your photo editing needs. Quality assurance tools may be added to this system for you to know beforehand how the image may appear even before you order.
Typically, technology based systems have a higher cost per image, which is not a wise tradeoff if you're just starting out. For newer businesses looking to outsource jewelry photo retouching work, this factor should be the lowest priority compared to the rest.
Final Verdict
There you have it! Now you know about the best jewelry photo retouching agencies along with a handy guide for people new to outsourcing. Go ahead and chase your wildest dreams; no one's stopping you!