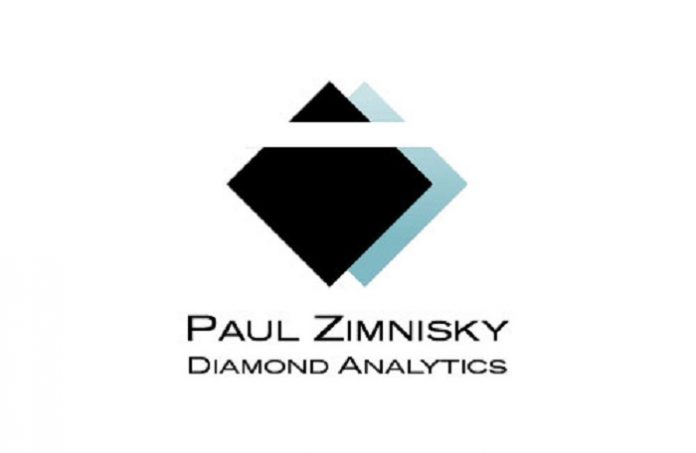 The lab-created diamond jewellery market is expected to achieve a long-term growth rate of about 9% and reach a level of US$ 15 billion by 2035, independent diamond industry analyst and consultant Paul Zimnisky has forecasted.
In a recent article posted on his website, Zimnisky says that the market for lab-created diamond jewellery which is estimated to be US$ 1.9 billion dollars today, is forecasted to grow at 22% annually to US$ 5.2 billion by 2023 and to US$ 14.9 billion by 2035.
He writes that the growth will be driven by the "continued advancement in lab-diamond production technologies which should improve production economics and thus further push down prices", and this in turn will result in its "taking market share from both the natural diamond industry and the fashion jewellery industry".
Segmenting the global jewellery industry (which is estimated to have annual sales of US$ 175 billion) into diamond jewellery, fashion jewellery and non-diamond fine jewellery, Zimnisky asserts that lab-created diamond jewellery will have a larger impact on the fashion jewellery category.
As per his analysis, for the 'diamond jewellery' segment that sells for >US$ 250 (typically gem-quality stones set in gold or platinum), lab-created diamonds currently represent an estimated 2.0% of this US$ 87 billion market and may grow to 3.4% by 2023 and 4.5% by 2035.
Similarly, he believes that in the 'fashion jewellery' segment that sells for <US$ 250 (typically set in sterling silver or a lower-quality metal with various types of gemstones and low-quality diamonds), lab-created diamonds are currently estimated to represent <1% of the almost US$ 40 billion market, which may increase to 3% by 2023 and almost 7% by 2035.
Zimnisky writes that though higher-quality lab-created diamond production (mostly using the CVD method) is still in its early stages, significant investment is being made in improving the quality of output and the economics of production. Also, producers using the original HPHT method are improving production capabilities.
He concludes that it is reasonable to assume that longer-term, the supply of lab-created diamonds is boundless and the price of generic goods will be set by the lowest-cost producer, ideally fit for the fashion jewellery market. The higher-price-point lab-created diamonds most likely to compete with the natural diamond jewellery industry will be those built around successful brands or unique jewellery designs.
News Source: gjepc.org