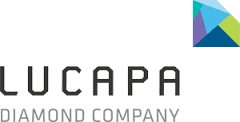 In an update on its quarterly activities, Lucapa Diamond Company Limited reporting on the Lulo Diamond Project in Angola (40% owned and operated by Lucapa), said that the mine's production for the quarter ended September 30, 2016, had increased 154% y-o-y to 8,853 cts from 3,479 cts recovered in the same period of the previous year.
The mine also registered an  increase in recovered diamond grade (13.7 cts per 1003  – up 73%);  average diamond size (1.9 cts per stone- up 62%); and specials recovered which totalled 137 (including the 172 ct and the 104 ct stones and the 39 ct pink diamond), a 219% increase.
Three diamond sales in the period grossed US$ 10.3 mn; year to date gross sales revenues amounted to US$ 36.5 mn.
The Company in its update reiterated the earlier announcement about the commencement of the erection of new XRT technology and larger screens (55mm) providing a capacity to  recover individual diamonds up to 1,100 cts.
– News Source : gjepc.org