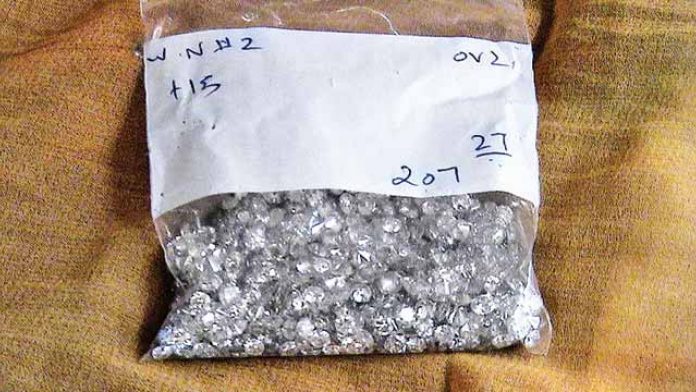 The diamond industry is going through tough times. Traders and dealers, who are already facing a financial slump, are now forced to wage a war against those who rampantly 'mix' synthetic lab-grown diamonds with natural diamonds. Traders from Surat and Mumbai stare at huge losses and bankruptcy even as the synthetic diamonds are peddled along with 'natural packets'.
"The entire diamond industry across the world is feeling the pinch of the slack financial season. We are hoping that the situation will revive in a month or two. The problem for us is not the synthetic diamonds but their mixing with the natural stones. People are getting cheated, traders are facing losses and to top it all the credibility — which has been built over the years — is grossly damaged," said Sanjay Kothari, past chairman of Gem and Jewellery Export Promotion Council (GJEPC).
Sanjay Shah, chairman of Nine Diam, gives a cautionary note that no one should run in the race of exchanging their old diamonds with new ones. If ever they do, they should be careful while buying new diamonds. "It might happen that they are giving away their precious stones and getting synthetic diamonds. The best thing to do is stick to the old traders who will not put his credibility at stake in the market and ensure that you get good pieces.
Also, one must ensure that the diamonds they buy have buyback guarantee with government certified cards," said Sanjay Shah, adding that Bharat Diamond Bourse is taking this issue very seriously and have implemented several measures to curb the malpractice of mixing lab-grown diamonds with natural ones.
Entry to the diamond hub in BKC is restricted for those who are found handling mixed packets. "Trading ties are snapped with them. If we don't take such measures, credibility built over years would get ruined for greed of few to make quick bucks," Shah added.
According to industry reports, the high pressure high temperature (HPHT) and chemical vapour deposition (CVD) technology is gradually becoming popular with the fierce competition. Experts in the industry predict that the prices in next two years will gradually decrease and more and more lab-grown diamonds will be sold in the market. Except for the high quality and large natural diamonds, the price of other diamonds shall gradually go down.
Kothari said that though there is huge gap between the emerging synthetic diamond market and the natural diamond industry, the future seems very competitive. "More than 130 million carat rough diamonds are imported as against 1.5 or 2 million carat synthetic stones. However, in future, the diamonds may become popular given the lower cost of diamonds with same hardness, purity and clarity of the stone in comparison with expensive precious natural mined diamonds. We are not worried about the competition. As large diamonds will always have their own client, and of course, a good price. What worries us is mixing natural with the machine made," he added.
Total turnover of import and export
Adish Shah, CEO of Jewellery Mart, which deals with natural mined diamonds online, said that the relationship between lab-grown and mined diamonds in the future will be the same as cultured and natural pearls at this moment. Total turnover of import and export of mined natural diamonds, until early last year, was Rs50,000-Rs60,000 crore. This has now come down to half i.e., Rs30,000 crore. Also, there is a huge dent of at least 15 per cent in imports as, though taking baby steps, this market is captured by lab-grown diamonds. "In December 2015, CVD diamonds which would cost around US $80 per carat, has now come down to US $4 per carat" said Shah.
News Source : dnaindia.com