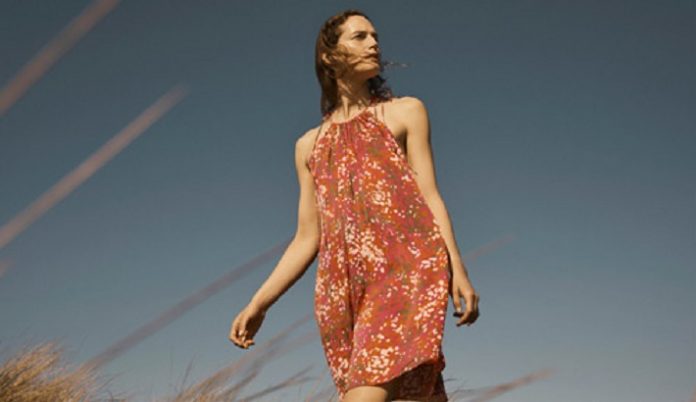 Luxury fashion retailer Net-a-Porter has launched an online platform dedicated to sustainable luxury.
Net Sustain sells clothes, jewellery, and accessories from brands that meets Net-a-Porter's criteria for sustainability, offering consumers an easy way to find such products.
Launching with 26 brands and comprising 500 products, every item within Net Sustain meets one or more of five key attributes ranging from considered materials and processes to reducing waste in the supply chain, taking into account human, animal and environmental welfare and aligning with internationally recognised best practices in the fashion and beauty industries.
Products and brands featured in Net Sustain are displayed in a dedicated section of the main website and will be badged so that customers can easily identify items that meet the sustainability criteria.
Jewellery brands Catbird, Leigh Miller, Laura Lombardi, and Melissa Joy Manning all have pieces in Net Sustain's debut rollout. And two jewellery brands — Wwake and Chopard —were asked to create a special collections exclusively for Net Sustain.
The firm says Net Sustain is an important milestone in Net-a-Porter's responsibility to sustainability. New pieces will be added every season, and the platform will later on expand to include beauty.
"This is an important milestone in our sustainability journey at Net-a-Porter. We have always wanted to provide our customer with the best products and allow them to make informed choices when shopping on the site. Our sustainable edit provides our customers with the knowledge they need, understanding that they can trust that these brands have been carefully reviewed and meet our criteria for inclusion," shares Net-a-Porter's global buying director, Elizabeth von der Goltz.
She adds: "Our aim is to give a voice to the brands that are truly making positive changes by providing them with a platform to highlight their best practice."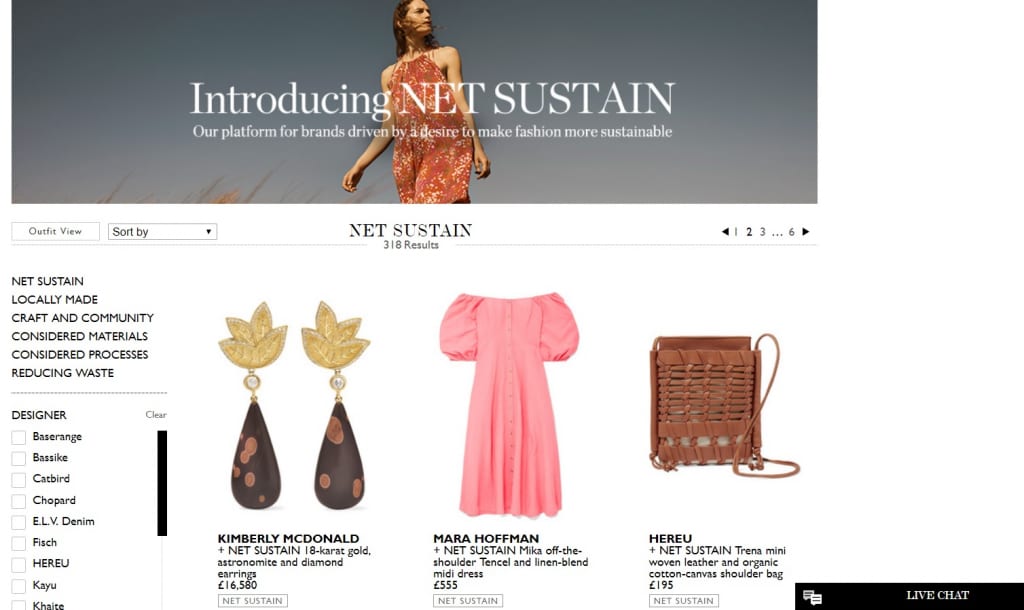 Considered materials
Considered Materials are cultivated in a way that takes into account the welfare of people, animals and the environment.
Some of the standards and certifications considered under this attribute include Global Organic Textiles Standard, Organic Content Standard, Cotton Made in Africa, Better Cotton Initiative, Responsible Wool Standard, Responsible Down Standard and a number of others. YOOX NET-A-PORTER GROUP joined the international Fur Free Retailer Program, supported by the Fur Free Alliance (FFA) in 2016.
considered processes
Considered Processes minimize environmental impacts and ensure the health of worker and wearer.
Some of the standards and certifications considered under this attribute include Bluesign, Oekotex, Nordic Swan, EU Ecolabel, Leather Working Group, and more.
reducing waste
This attribute celebrates products made using regenerated or reused materials and the brands designing with circularity in mind.
Some of the standards and certifications considered under this attribute include the Global Recycle Standard, Recycled Claim Standard, Cradle to Cradle, and a number of others.
locally made
Locally Made highlights the brands whose purpose and products are intimately connected to its provenance and people.
We only include brands that manufacture at least 50% of their product in their own community or country.
Craft and community
Craft & Community lie at the heart of luxury, so we celebrate products that showcase unique artisan skills and brands that adhere to fair trade principles and invest in communities.
Some of the standards and certifications considered under this attribute include Fairtrade, Fair for Life, The World Fair Trade Organisation, and Fair Trade Certified.
Customers can shop the entire curated Net Sustain edit, or narrow the search to just include one of the areas above.
News Source: professionaljeweller