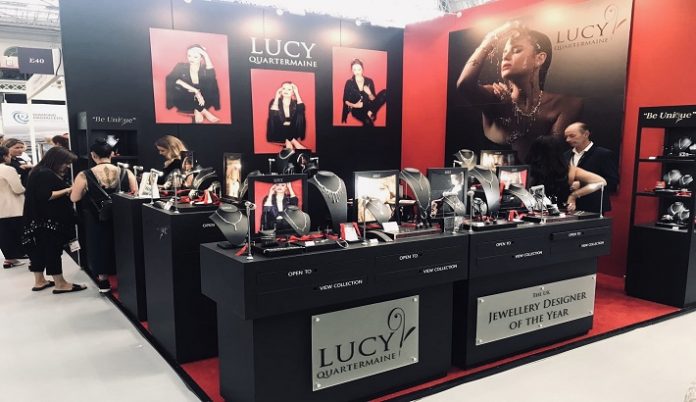 Luxury silver designer brand Lucy Quartermaine has reported a successful showcase at this year's International Jewellery London.
For the 2019 trade show, the award-winning designer moved to the ground floor to showcase new designs and her transition into designer brand status.
The brand signed up additional stockist at the show, with new appointments to follow in the coming weeks.
New collection additions proved particularly popular with retailers current and new, with each visitor ordering from the new AW19 Petal and Teardrop designs.
The stand design was the biggest and best yet for the designer brand, showcasing its growth and individuality. The on-brand colours and striking design stood out from the gallery above, attracting attention from many visitors.
Namesake brand founder, Lucy Quartermaine, comments: "The move to the ground floor of the show was to showcase to retailers that we are not only a designer but a designer brand. This proved successful as we received so much positive feedback and retailers to our stand during the show. A fantastic year at IJL for team Lucy Quartermaine."
IJL 2019 proved successful not only for new retail partners and fantastic sales but for networking and relationships for Lucy Quartermaine, including International visitors.
During the three-day show the brand also scooped two accolades, one from the fair itself and another at the 2019 Professional Jeweller Awards.
New Source : professionaljeweller