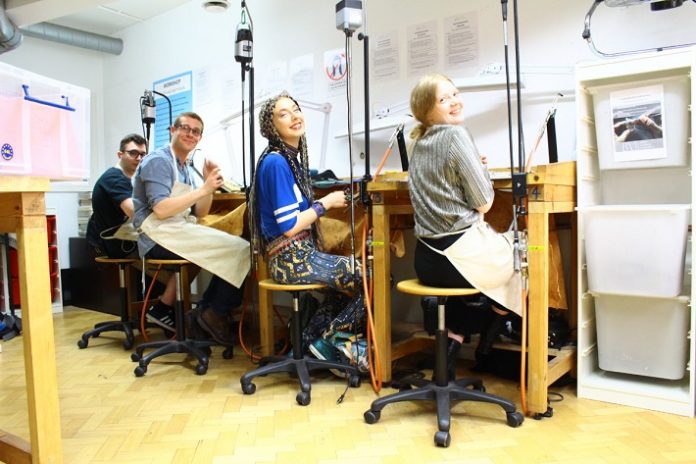 The Scottish Qualifications Authority (SQA) and the British Academy of Jewellery (BAJ) have developed new training courses, which aim to give students the skills they need to thrive in this competitive industry.
The partnership, which combines BAJ's knowledge of the sector with SQA's robust quality assurance processes, has resulted in a four year Jewellery Manufacturing and Design Diploma Programme.
The Diploma begins at Level 3 on the Qualifications and Credit Framework (QCF), providing students with a solid foundation in the technical and creative skills required to become a jeweller.
Students then have the opportunity, over the course of three years, to work towards Levels 4, 5 and 6.
This sees students gain advanced jewellery manufacturing skills, as well as expertise in Computer Aided Design (CAD), which harnesses the latest technology.
A key requirement when developing the Diploma was that students should not only gain these technical skills, but they should also be equipped with broader skills to help them achieve their future goals.
Kate Rieppel, Head of Programmes at the British Academy of Jewellery, explains: "We found that with SQA we had the freedom to put our own input into the programmes. The idea behind the Diploma structure is that we have the flexibility to combine aspects of the jewellery industry within each course."
Throughout the Diploma, students are encouraged to embrace their creativity and to develop their own unique style.
Rieppel adds: "Part of the programme we developed really allows students to take skills from a basic level and to use their creative thought to put their own spin on it. So you'll find students coming out of our programme who not only have the technical skills, but who can also think quite creatively."
Students are then provided with the skills they need to market themselves and their products. This includes how to take professional photos, create a website, and how to use social media effectively.
Head of the British Academy of Jewellery, Sofie Boons, details: "We've focused on making sure those technical skills are still there but we're also really interested in making sure that graduates are able to take part in this new jewellery industry, which also requires digital skills, to be business savvy and to know how to market products.
"Just knowing the technical skills is now not enough to get a career. So that's what our collaboration with SQA was all about – to build new programmes which enable students to succeed in this new industry."
The Levels 3 and 4 were launched this year, with Levels 5 and 6 becoming available over the next two years.
Qualifications manager at SQA, Anne Boyd, says the Diploma offers students a new pathway into the industry. She states:"By the time we put the level 6 in place, what we'll have is a progressive framework of qualifications, which will take them from absolute beginner to complete professional, and that's really exciting."
The course is available in Birmingham and London's Hatton Garden.
News Source: professionaljeweller