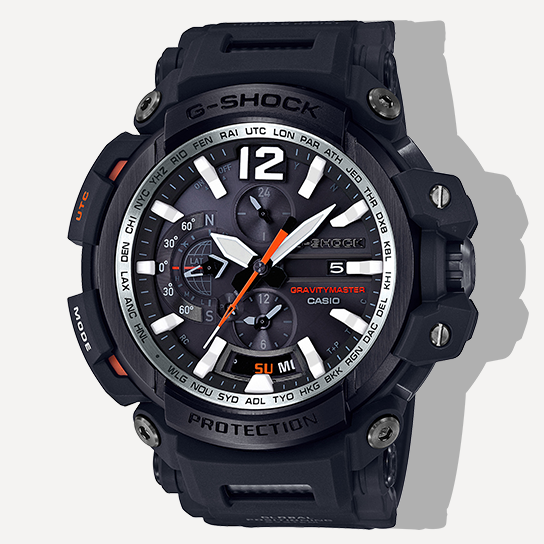 When I was in college in New York City in the late '90s, the height of urban club/raver fashion was a "Baby-G" G-Shock digital watch that, with the press of a button, sent a tiny, digitized breakdancer bounding across the screen. There wasn't a girl I knew who didn't have one.
Two decades later, the ruggedly cool Casio-owned brand is making a play for male watch-wearers who prize toughness and high-tech performance in their timepieces with the release of its first-ever connected Gravitymaster watch.
The $800 GPW2000, the latest addition to the brand's Master of G Gravitymaster watch series, was made for pilots (and the men who admire them).
The watch, which pairs with a proprietary G-Shock smartphone app, features a souped-up GPS system and something called "atomic time calibration signal reception" for "time correction," according to a company statement.
The app also lets users record their location and use that info to track their flight path—or, you know, their family road trip to the Catskills.
The watch features a "sapphire crystal, carbon reinforced connection structure, as well as Triple G Resist technology," and comes equipped with 200 m water resistance, shock resistance, magnetic resistance, and a "Super Illuminator" (a high-brightness LED light), all wrapped up in a 57.1 mm case.
Check out this video the brand created to showcase its features—it plays out like an action-movie trailer!
News Source: jckonline.com