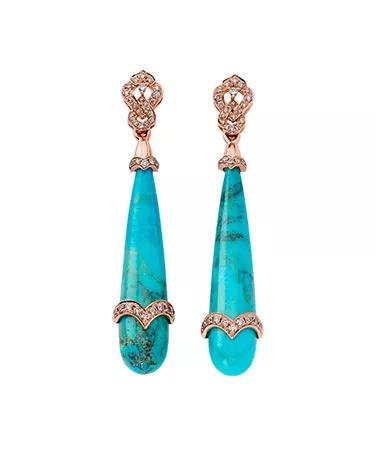 The Pantone Spring 2017 Fashion Color Report provides an overview of designers' color choices in their new clothing collections. It's important that jewelers know these seasonal choices, so they can help customers successfully color-block accessories. Here are five ways your peers suggest color-blocking with Pantone's Kale.
"Evocative of the great outdoors and a healthy lifestyle, Kale is another foliage-based green that conjures up our desire to connect to nature, similar to the more vivacious Greenery. And, just as we see in nature, its lush and fertile natural green shade provides the perfect complementary background to the more vibrant tones in the palette." —Pantone
1. Brighten up dark Kale ensembles with lustrous white pearls and pops of blue gems.
"I love the idea of iridescent white pearls with a high luster to bring out the subtlety of Kale. Plus, blue and green go so beautifully together—they complement each other well." —Imperial
Bracelet in sterling silver with black rhodium, 13 mm–20 mm white baroque freshwater pearls, and London blue topaz beads, $450
2. Pair another shade of green with Kale's earthy green color for an analogous look.
"Green amethyst is a beautifully muted tone, and the rich faceting of these particular stones brings out the full range of its shade—from translucent and cool to dark and dusty—all of which complement the Pantone color Kale." —Elizabeth Garvin Fine Jewelry
Facets earrings in oxidized sterling silver and 18K gold with 14.5 cts. t.w. hand-cut, faceted chunks of green amethyst, $1,510
3.  Let an opal with its mysterious play of color both lighten up and add depth to a Kale outfit.
"The subtle tones of this opal pendant are the perfect complement to Pantone's Kale." —Sophia by Design
Pendant necklace in 14k yellow gold with a 2.6 ct. crystal opal and 0.14 ct. t.w. diamonds, $1,710
4. Give a Kale outfit a burst of robust color with turquoise and rose gold. 
"These earrings will color-block nicely with Kale because the tones allow for a harmonizing effect. Turquoise represents and is thought to control and heal the emotions, creating emotional balance and stability. The deep earthy color of Kale creates an equal wholeness, allowing these two to perfectly complement one another." —Sara Weinstock
One-of-a-kind earrings in 18k rose and white gold with 27.56 cts. t.w. turquoise and 0.64 ct. t.w. champagne-color diamonds, $5,080
5. Add drama to Kale-color attire with a jewel-tone gem and rich yellow gold.
"This undeniably regal 12 mm lapis lazuli set in 18k gold is a striking and eye-catching contrast to the earthiness of Pantone's Kale. The combination is sophisticated and creates a timeless look." —Shelly Purdy
Ring in 18k gold with lapis and 0.04 ct. t.w. diamonds, $2,200
The Style 360 blog is your editorial source for the newest jewelry, trends, fashion, market analysis, trade show insights, designer profiles, and more.
News Source : jckonline.com