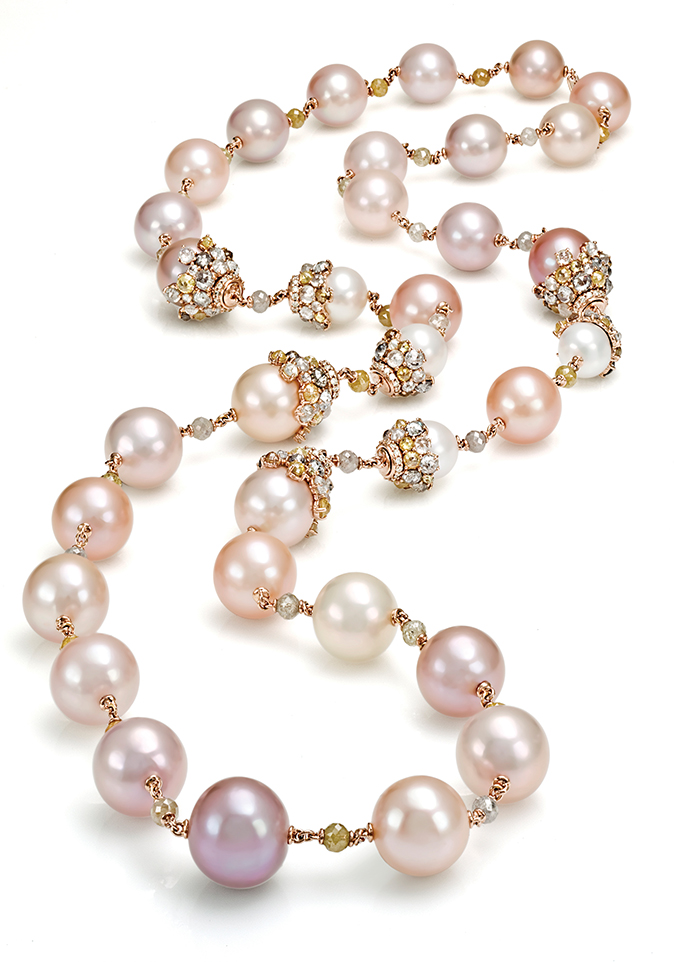 By Bernardette Sto. Domingo
Katia Olivucci is the force behind Italian jeweller Giovanni Ferraris' enigmatic collections. With designs that are functional, innovative and visually pleasing, Olivucci has perfected the recipe for contemporary jewellery pieces with a timeless allure.
Jewellery designer Katia Olivucci spends most of her time in the manufacturing facility of Giovanni Ferraris, one of Italy's renowned fine jewellery makers. At her disposal are diamonds and coloured gemstones of the finest quality that inspire her
to design bespoke jewellery pieces evoking vigour, functionality and top-notch artistry.
JNA: How would you describe your design philosophy?
Katia Olivucci: At Giovanni Ferraris, our aim is to produce jewellery pieces that celebrate women's diverse personalities. Every woman is different and would naturally choose a design that best suits her individuality. Most of the time, my buyers already have classic pieces in their jewellery boxes but they want to own something that stands out and would represent their character and aspirations. We have collections that we are certain will strike a chord with them. One is the Pavo Real Collection, which takes inspiration from the peacock – a truly magnificent creature. We use fancy sapphires and rubies to convey beauty in irregular, asymmetric designs. We likewise offer the Divina Collection, which is our answer to the market's call for innovative and multifaceted products. A Divina ring, which is made up of seven bands with distinctive designs, can be worn in various ways.
JNA: What sparks your creativity?
Olivucci: We create new designs every year as we want to keep our product portfolio fresh and interesting. I consider myself lucky because I get to be in the factory every day so if I want to experiment on something, have access to all the materials I would ever need. I'm a fan of experimentation and trying out what works and what doesn't. That's how I perfect my creations. Inspiration comes mainly from experience as well. I worked as a goldsmith for five years after which I learned how to sketch so I can better express the designs I've conceptualised in my head.
The design for my Divina rings, for instance, was borne out of necessity. I have three rings that I treasure the most – one from my mom, one from my grandmother and one from my husband. Three rings; three different stories. There are times when I want to wear all three on the same finger but it just doesn't work. My friends have had the same dilemma so I tried designing a multi-band ring that is stackable yet flexible. That's when the Divina ring was actualised. I had to go through a lot of experimentation, which took three to four months before the design was refined. The special technique allows the client to wear the ring as a single piece of jewellery or as a multi-finger ring. The seven bands are held together by staples to expand or shrink at will. The rings are embellished with fine gemstones in alternating colours and complementary designs.
JNA: Please share details of other Giovanni Ferraris collections that offer modern and dynamic designs.
Olivucci: We have a collection called Twist, which, as the name suggests, features a patented design resembling twirling, circular movements made possible by titanium-coated gold. The pieces – rings, bracelets and necklaces – return to their original shape after being stretched. This is one of our best-selling products because they're fun, ingenious and innovative. It appeals to a younger generation of buyers as well.
We also have the Millefoglie and Tiramisu collections – these are fresh designs with a more avant-garde yet delicate appeal. These too move fast. The pieces are adorned with white and fancy colour diamonds cleverly placed alongside coloured gemstones like rubies or green sapphires.
The Titanium Collection, meanwhile, is a big project for us. The main piece is a sapphire-studded butterfly with diamonds. The blue sapphires are accentuated by the blue titanium band. For me, titanium jewellery, through its voluminous lightness, injects an additional layer of luxury to the piece and enhances the beauty of diamonds and precious stones.
JNA: What makes a Giovanni Ferraris piece stand out?
Olivucci: Our defining advantage is our passion. We have this fire in us that fuels us to always excel in every jewellery piece that we produce. There is a high degree of quality control permeating our overall operations. My husband, Giovanni, inspects every piece because we aim for excellence at every stage of the manufacturing process. We deliver perfection and our customers' satisfaction is of paramount importance to us. A mere thumbs-up from them gives me more than just fulfilment; it's a piece of heaven for me. Just as I design with passion, I also sell with passion. I want that kind of enthusiasm to rub off on my clients. My style is quite outstanding. If you love a jewellery piece that came about due to the time and effort I've dedicated to it, then that in itself is an achievement for me as a designer.
All jewellery pieces by Giovanni Ferraris
News Source: jewellerynet.com