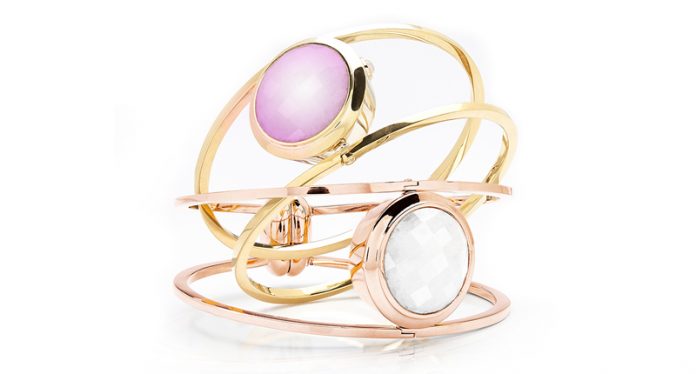 New York–Richline Group is putting its own name into the wearable tech ring this spring by launching a proprietary line of products.
The launch of Ela will start with wristwear pieces, including leather wrap bracelets and stainless steel, silver, and gold metal versions, priced between $195 and $295.
The product has built-in Bluetooth to allow it to connect to both iOS and Android devices with its own app, featuring fitness tracking that syncs with Apple Health and Google Health Kit and customizable alerts for the center piece, which provides a soft glow and vibration to notify users of various alerts.
The app also allows users to create and share photos and other "memories" like songs or voice recordings. These "memories" can be pre-loaded for gift giving purposes.
The products will launch in retail stores and online this spring.
While the company has been in wearables for years, having the Viawear and Ungaro brands under its umbrella, Ela marks Richline's first proprietary product in the category.
Though the move shows Richline's confidence in the category, wearable tech still seems like a question mark in the consumer product market of the U.S.
According to research and data firm Kantar, though the interest in wearable tech still is growing, it's a slow build.
As of December 2016, 16 percent of consumers in the United States owned a smartwatch or fitness band and among non-owners surveyed during the month, only 8 percent said they planned to purchase a wearable device in the next 12 months.
News Source : nationaljeweler.com