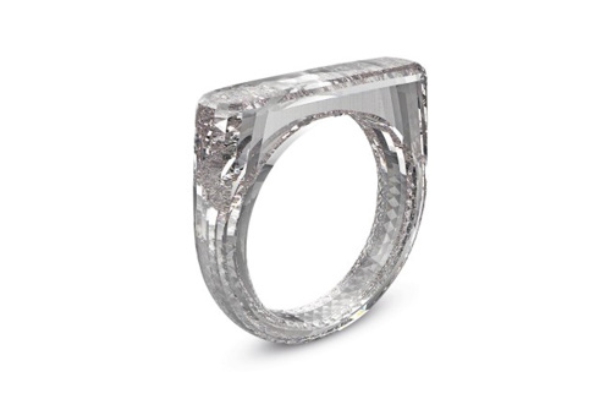 During Art Basel Miami Beach and Design Miami, Sotheby's will be putting up a collection of contemporary art and design for auction on December 5, 2018.
At the heart of this collection, for those interested in diamonds and jewellery, is a unique ring designed by Sir Jony Ive, Apple's Chief Design Officer, and renowned industrial designer Marc Newson. The two designers had curated the (RED) auction five years ago and have now created the innovative ring, which has been made exclusively for (RED) by Diamond Foundry®.
"Consistent with their mutual obsession with transforming raw material into objects of value, Ive & Newson's design is singular, clear and uncompromised by the traditional metal settings and bands that have previously been required to create diamond rings," Sotheby's said in an article on its website. "Their creation will be formed by removing material rather than adding – an ambition made possible by the extraordinary scale of the stone which will enable the ring to be made completely of diamond."
Sotheby's went on to say: "Creating a ring-shaped diamond is no small feat; the diamond block will be faceted several thousand times, some of which are as small as several hundred micrometers. The interior ring will be cylindrically cut out for the desired smoothness using a micrometer-thick water jet with laser beam. The finished ring will have between 2000–3000 facets, more than has ever been seen before on a single piece."
The ring has been estimated at between US$ 150,000–250,000.
Pic Cap: Sir Jony Ive's and Marc Newson's The (RED) Diamond Ring, A Diamond Foundry® Created Diamond
Pic Courtesy: Sotheby's
News Source: gjepc.org