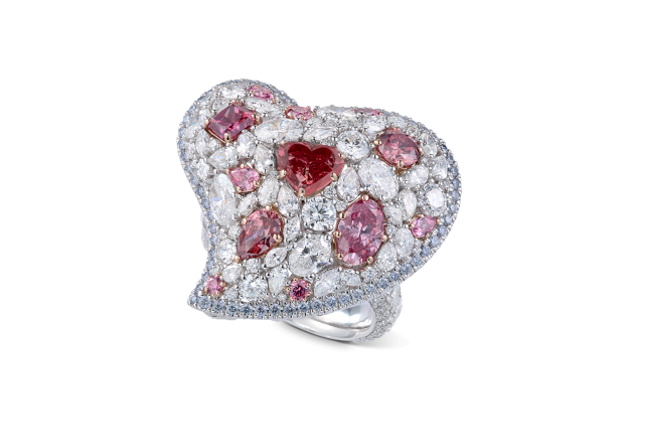 Rio Tinto has unveiled its first piece of jewelry in its Argyle Pink Diamonds Icon Partner program.
It's a one-off $3.75m ring handcrafted with 3.42 carats of pink, red and blue diamonds from the iconic Australian mine, which closed in November 2020 after reaching the end of its life.
The Argyle Romantica, created by Singapore-based John Glajz, is part of a strategy to protect the provenance of Argyle pinks.
The piece features five of them, with a total weight of 2.31 carats – a 0.75 carat fancy red diamond, two fancy vivid purplish-pink diamonds and two fancy deep pink diamonds.
There are an additional1.11 carats of smaller blue and pink Argyle diamonds.
Rio Tinto Minerals chief executive Sinead Kaufman said "I am delighted with this latest creative collaboration that captures the mesmerising beauty and potency of colour of Argyle pink diamonds.
"We look forward to continuing to work with our downstream strategic partners to create new masterpieces that support the legacy of this iconic Australian brand."