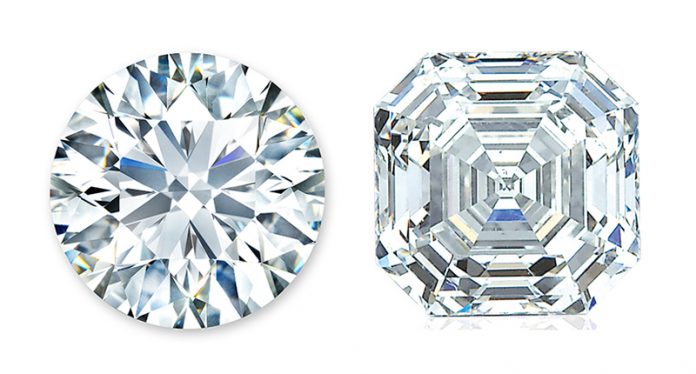 Las Vegas–At the JCK Las Vegas show, Royal Asscher diamonds and Treliss Worldwide launched a new loose diamond program for independent retailers.
This is the first time the renowned diamond company has offered loose stones to independent retailers.
The program currently includes the Royal Asscher Cut and the Royal Asscher Brilliant Cut, but will continue to expand, sixth generation diamantaire Lita Asscher told National Jeweler. They will add the Royal Asscher Cushion to it soon.
Retailers can buy in with a minimum of six stones and can choose what those are; diamonds start at 0.75 carats and go up from there.
She added that the buy-in includes a display and the Royal Asscher authenticity certificate.
Asscher said the decision to launch the program came after exceptional sales of the company's patented cuts.
Retailers also were telling the company that though they loved Royal Asscher's diamonds, they already had a lot of mountings. And, since so many customers come in wanting to design their own rings, jewelers wanted the option to buy more loose diamonds instead of already mounted stones.
"Research tells us that there is a surge of interest in patented diamond cuts, combined with an upward trend towards branded jewelry purchases, to fill the desires of customers in search of quality and special factor," Lita Asscher said.
The partnership between Royal Asscher and Treliss Worldwide started in early 2015, allowing the former to streamline sourcing, merchandising, distribution and marketing.
At the show, Royal Asscher also was launching its DNA collection, which includes a nod to all of the royal jewels it has played a role in creating by referencing in each piece details that can be found in crowns and tiaras.
News Source: www.NationalJeweler.com