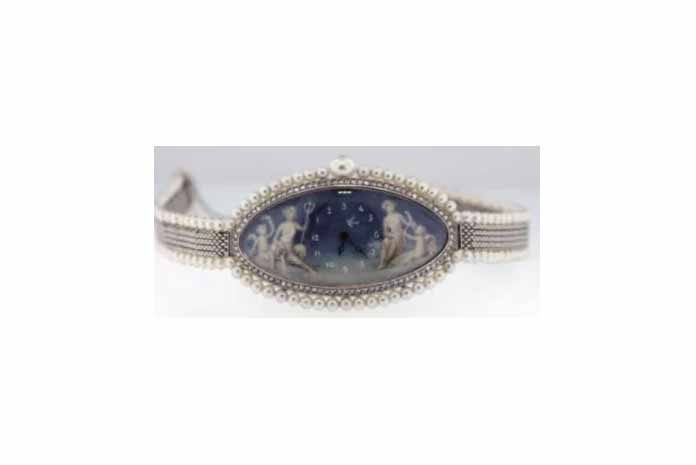 An heir to one of America's most famous families wants the industry to be on the lookout for historically significant jewelry pieces taken from her home
n April 23, Paul and Anissa Balson came home after being out of town for one night to find the front door of their Los Angeles home flung open, their back window smashed, their bedroom ransacked, and the 750-pound safe from their bedroom missing. That safe contained dozens of pieces of jewelry, worth millions, some designed by Anissa—an heir to the Hearst family. (She is the great-granddaughter of legendary publishing magnate William Randolph Hearst.)
But the real heartbreaking thing—and the reason the Balsons are appealing to readers of JCK—is that many of the pieces were irreplaceable heirlooms, representing four generations of history of one of the most famous families in America (and the sixth richest, according to Forbes).
"We lost four generations of family jewelry in one night," says Paul Balson. "It's an awful feeling. There have been people going back to the 19th century who have loved these pieces, who put them together, who gifted them meaningfully, who knew how important they were. The emotional hit is very potent, not just because of the beauty of these pieces, but because of the history that goes with them. The uniqueness, artistry, and history are built into the jewelry itself. You cannot replace the history and the love that go with those pieces. They speak to us of ancestors who are no longer with us."
The major stolen pieces are arguably important pieces of not just U.S. but jewelry industry history, including significant early items from Tiffany & Co. and Van Cleef & Arpels. If they are returned, the Balsons hope to display them in a museum.
Among the items that were taken:
– This Tiffany flower brooch, with a 20.5 ct. old mine cut diamond center stone, was designed by George Paulding Farnham at Tiffany. William Randolph Hearst gave it to his wife, Millicent, following the birth of their twin sons.
– This platinum and diamond ring contains a 6 ct. Kashmir sapphire.
– This Van Cleef & Arpels platinum and 18k gold necklace has a fleur-de-lis center with large white and gray pearls. Millicent ordered it to pay tribute to her mother-in-law, Phoebe Apperson Hearst, the prominent suffragette and philanthropist (she helped found the organization that is now known as the PTA).
– This handmade Belle Époque platinum and diamond ladies' wristwatch was designed by Verger Frères and is a rare example of an early-20th-century woman's timepiece. William Randolph purchased it as a birthday gift for his mother
– This platinum brooch was designed by famed jeweler William Ruser and features Mississippi freshwater pearls with fancy colored diamonds set in platinum within a naturalistic design.
– This Art Nouveau plique-à-jour 18k pendant and chain shows a young girl holding flowers in profile.
Scott Guginsky, vice president of the Jewelers' Security Alliance, feels the pieces will soon turn up in the industry.
"All it takes is one piece that somebody has, or has seen, or knows where it is, that can bring the people [who stole these pieces] to justice," he says. "And from a jeweler's standpoint, those people are the same people who would go into a jeweler's house and do the same thing to them."
Anissa Balson says these pieces are so distinct that "any jeweler worth their salt will know what these pieces are. Their heart will stop when they see them. They will realize: These are important pieces of jewelry and someone is looking for them."
The family is offering a reward of up to $50,000 for information leading to the recovery of the stolen jewelry. If you have information, call Ray Lombardo, director of Shaw, Segraves and Associates, at 818-773-5600. You can also contact the Jewelers' Security Alliance at 800-537-0067.
(Photos courtesy of Paul and Anissa Balson)
News Source : jckonline.com