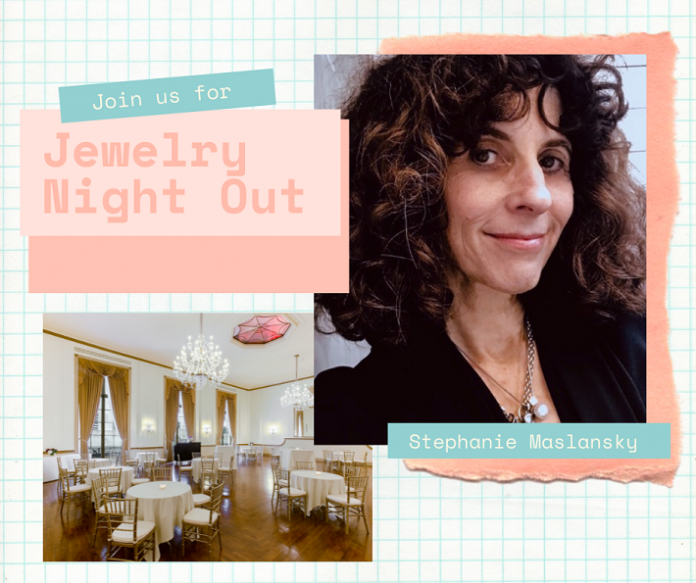 New York, NY. August 17, 2021. The Women's Jewelry Association (WJA) New York Metro chapter will be hosting this year's annual Jewelry Night Out at the 3 West Club on Thursday, September 9th, 2021. The event will be the first in-person event for the chapter since the transition to all-virtual programming due to the COVID-19 pandemic. The evening will provide a spectacular opportunity for members to catch up, and for friends in the trade to join in its hybrid model, celebrating the advancement of women in the industry. The WJA New York Metro Chapter will be honoring the role of jewelry in film, with Stephanie Maslansky as the guest speaker in the historic Grand Ballroom.
Stephanie will be discussing her approach to jewelry, as a support to the definition of a character in film, which will be followed by a Q&A with Michelle Graff, Editor-in-Chief of National Jeweler. "I'm excited to speak at the event because of the impact jewelry can have on actors who look for anything to help them find their character. I love collaborating with jewelry designers because they help me find unique means of creating nuance in personal style," says Maslansky.
As a costume designer for film and TV, Stephanie's recent work includes Jack Ryan Season 3 and Berlin Station Season 3, both shot in Budapest and throughout Europe. She spent four years in the Marvel Cinematic Universe designing seven seasons of Superheroes for Netflix: Marvel's Daredevil, Jessica Jones, Luke Cage, Iron Fist, and The Defenders. Currently she is designing City On A Hill, set in the 1990s in Boston. Stephanie loves collaborating with jewelry designers on unique ways of defining character and creating nuances through accessories.
Jewelry Night Out (JNO) is the annual membership drive for the Women's Jewelry Association. Throughout the entire month of September, there will be a discount of 25% on all new memberships, and 10% off renewals. The discounts code can be applied in August when registering for JNO online.
WJA New York Metro Chapter President, Olga Gonzalez, says "We are excited to gather and be an in-person community again, sharing with members and welcoming new members, as a network that strives to advance all women in the gem, jewelry, and watch industries. Stephanie Maslansky is an inspiration. She is a strong, talented creative who thoughtfully considers the role of accessories, and celebrates their meaning through the medium of film. Sharing her insights and experiences will be part of a fun evening, which has been organized by our incredible local board and committee members. Save the date for September 9th! We look forward to seeing you all there."
Within the spacious 350-person capacity historic Grand Ballroom, attendees will enjoy the splendor of the landmarked building, conveniently located in midtown at 3 West 51st Street. The Women's Jewelry Association New York Metro Chapter would like to thank their generous event sponsors: Jewelers of America, Intercolor, Jewelry Display of New York, and Instappraise. For those in attendance, there will be raffle prizes given away during the evening, which have been donated by Rio Grande, JVC, GIA and Instappraise.
About the Women's Jewelry Association
Established in 1983, WJA was founded on the principle that women networking with each other could change the world. The founders of the Women's Jewelry Association believed women could act as mentors, providing scholarships and seed money for new entrants into the industry, and that the association could recognize women's talents and accomplishments. Its mission is to help women in the jewelry and watch industries advance and develop professionally through networking, education, leadership development, and the provision of member services. The New York Metro Chapter, the founding chapter of the organization, consists of about a quarter of the association's membership base.