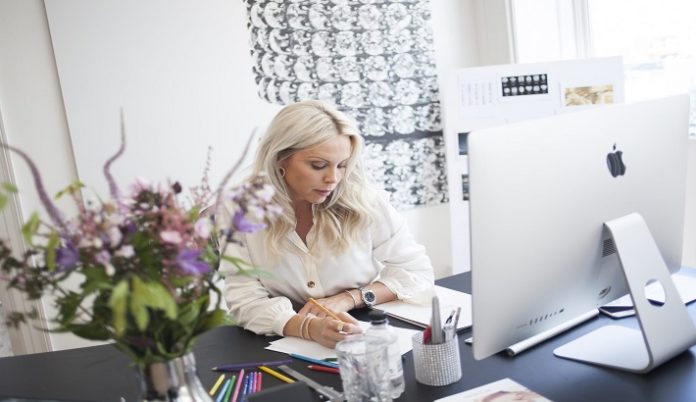 As Sif Jakobs Jewellery marks a decade in business at this year's International Jewellery London, the eponymous founder shares her vision for the future with Professional Jeweller…
Congratulations on ten years in business! What was the vision when you first launched the Sif Jakobs Jewellery brand?
Thank you very much, I cannot believe that ten years have passed since I was sitting in my one-room apartment, just me alone with high hopes and ambitions. My vision back then was to create a jewellery brand with a strong DNA and a look and style that made women shine and feel beautiful. At that time (2009) the common jewellery trend was very casual and non-glamorous. Black silver and grunge-inspired jewellery were in trend and sparkling zirconia was not very welcome in the fashion scene, but I wanted to create something that wasn't out there yet. I had a dream of creating a glamorous affordable luxury brand where a broad category of women could wear and afford my jewellery creations.
How has the brand evolved over the last ten years?
It has evolved from a small one-man-show to an actual organisation with employees in the UK and Germany, and partners in 21 countries. Sif Jakob's jewellery has also become a celebrity favourite in some markets, for instance, the UK and Germany, which is something that's fantastic to experience.
What have been some of your highlights during the first decade in business?
Winning some of the most prestigious awards in the UK and Germany have been some of the biggest achievements. On an everyday basis, I tend to forget that the hard work pays off and forget to recognize how much we have developed and grown the sales, but when you receive an award that actually states it, you become aware and quite proud. It motivates me and makes me want to work even harder.
With your name being attached to the brand, what are some of the values you want the business to always hold on to?
My Scandinavian roots are deeply rooted in the brand where values such as high quality and outstanding customer service are something I value highly. And the fact that there are actual people behind me and my dedicated team who work very hard to make all this happen – that matters to me.
What goals have you set on a global level for the next 12 months?
To grow the business and implement new routines and structures that are adjustable according to the ever-changing consumer behaviour. We are also in dialogue with overseas partners (US & Canada) and hopefully, new exciting adventures will be initiated in these markets within the coming 12 months. We're quite well established in Europe now, and we ready to take the brand to the next level in new regions.
And focusing on the UK, what are your hopes for the second half of the year?
To launch a successful 10 years collection and celebrate our anniversary with our partners in the UK. We will be initiating different 10-years celebration initiatives and look forward to seeing how this is received.
What are you finding retailers are responding well to in terms of products?
At the moment our coloured items are popular from our UK retailers. We try to live up to the demand for these items, however, they are also looking for more classic pieces, elegant and sophisticated pieces that are not necessarily seasonal item.
What does Sif Jakobs Jewellery to help retailers bolster business?
We are very responsive and open to our retailers' wishes for collaborations etc. Our retailers' success is our success. We have worked very closely and intensely with our PR agency and made quite targeted and intensive collaborations with influencers to gain awareness in the market.
Do you have any new initiatives launching that you can tell us about?
We are targeting sales growth of 120% in the last six months of this year versus the same period last year. This will be achieved by developing further our existing business with established independent accounts, continuing to open accounts and importantly our push into the retail multiple sectors with Ernest Jones and John Lewis and Partners. Sif Jakobs Jewellery recognised well in advance the trend for constellation themed jewellery, personalisation, rainbow colours, the growth in yellow gold and offering real value for money. These five factors and our continued investment in new designs have underpinned the growth of 71% in the first half of the year and will be the basis of continued and substantial market share gain in a very challenging market.
When all is said and done, what would you like the Sif Jakobs Jewellery legacy to be?
To make women happy and make them feel they get something extra when wearing a piece of my jewellery. I want an honest and a fair brand with a good reputation and a strong heritage.
New Source : professionaljeweller