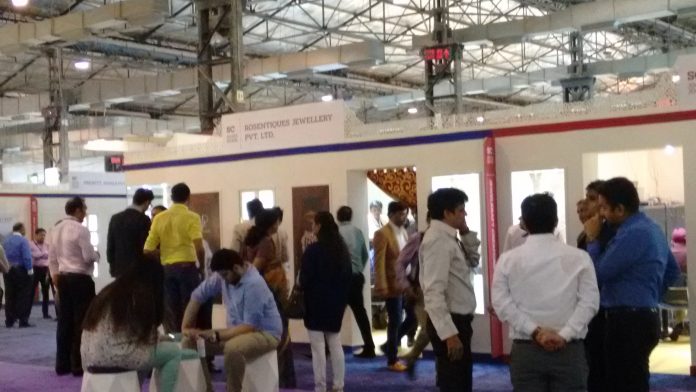 If there was one aspect which was driven home at the Signature IIJS is that jewellers cannot ignore the design element anymore – a trend which has been pushed by the consumer to a large extent. There is such great variety to choose from that trends are only subtly apparent. For you might say that there is something of everything.
However, this year the one thing which seemed to be popular was multi-stringed necklaces with "pendants" set off shoulder or at other points – but not in the traditional place to hang at the bottom. These necklaces came in a myriad forms: with several gold chains either in combination of different shapes – like some strings have tiny gold beads, others are machine made chains; strings of coloured gemstones in layers; or even in some cases diamond strings. Asymmetry is the name of the game here.
Rosentiques, a jewellery manufacturer-wholesaler conducting an entirely B2B business has an eight member design and product development team which creates new collections for the IIJS each year.
The jeweller creates three types of adornments: polki, diamond and platinum jewellery. This year the polki has been combined with a very light shade of emeralds to create fascinating pieces of soothing pastel jewellery. The diamond jewellery collection is based on the lotus flower. Interestingly, in the platinum segment, Rosentiques is one of the few who creates more important pieces using colouredstones and diamonds as well. One rarely sees platinum used like any other metal to create studded jewellery. The large pair of chandelier diamonds studded with dark emeralds and a delicate spray of diamonds climbing on one side is quite a stunning offering. "We have developed special manufacturing methods to be able t create these pieces," says Amish Kothari of the company.
Alkesh Shah of Gold Star Jewellery Pvt Ltd., which has a collection of delicately designed diamond jewellery says that in the current market, it is jewellery up to Rs. 3,00,000 which is doing well. "Not that we don't have more important pieces, but there is a greater demand for lightweight, lower-priced jewellery," he says. "Customers want a bigger look for their cash. This is especially true of the north. The southern market still emphasises diamond quality."
According to Shah, customers who were holding back for the last two months are ready to move on, and the show has been better than expected.
In some part, his views are echoed by Milan Chokshi of Tanvirkumar & Company but with added dimensions. "Price points are going down," says Chokshi. "Retailers are not making decisions just yet. They are replacing old categories, not buying aggressively. There is a greater demand for the more generic items." Tanvirkumar & Co., which has a brand Moksh, has been well known for its scintillating designs with colouredstones and diamonds. Chokshi says that their necklaces and earrings set in rose gold and using fancy shaped diamonds have been particularly popular. Chokshi also sees the market as mainly flat. "There is no growth across luxury segments, FMCGs across the board," he says. "There are no new store openings, no expansion of retail capacity. That is because there is little very little new wealth creation taking place."
K. Girdharlal, a Surat based company has a majority of its business in the diamond segment. However, they also specialise in diamond studded bangles, which is what they are offering at Signature IIJS. "We have a niche in single line bangles using diamonds from 20 points up to one carat, generally," says Nayan Jain of the company. The bangles come in a price range of about Rs. 6,00,000 to Rs. 10,00,000. Apart from single line, the company also has bangles with different designs studded with smaller stones.
All the above companies belonged to the Signature Club segment situated in the heart of Hall 1. Though the exhibition did not have the same swilling crowds that mark IIJS in August, most companies in this section were continuously busy with a regular stream of clients. Business for those situated around the periphery, was dull for some.
Representatives of Varakrupa Jewellers and Diam Jewellery, located outside the Signature Club section, also agreed that large expensive pieces were not moving; and that design was a very important aspect today for the business. The former works entirely in gold, while the latter displayed mainly diamond jewellery, sometimes using coloured gemstones for embellishment.
However, the unanimous verdict is that Signature IIJS has fared better than expected.
News Source : gjepc.org