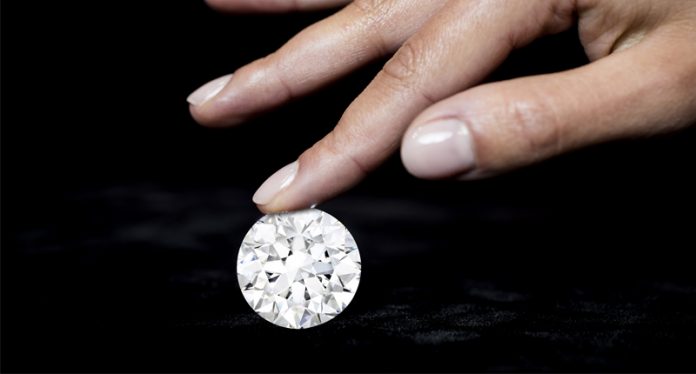 London–Two months after the Sotheby's Diamonds retail boutique in London unveiled a 102.34-carat round diamond, it has found a buyer for the stone.
The Type IIa GIA-graded diamond is the largest round, D color, flawless diamond on record, and the only round brilliant over 100 carats with perfect color and clarity, according to the auction house.
De Beers mined the rough for this diamond, which weighed 425 carats, in Botswana about two years ago. Diacore cut and polished the stone in Johannesburg and New York over a period of six months.
Sotheby's would not reveal the identity of the buyer or the total price paid, only noting that the final price per carat "far exceeds" that for any colorless diamond sold at auction. The current price-per-carat auction record for a white diamond is $260,252, set at Sotheby's in Hong Kong in 2013.
When Sotheby's unveiled the diamond in February, it told National Jeweler that not only would it beat the price-per-carat record, but it also would top the highest price paid for any diamond jewelry at auction, which stands at $33.7 million for De Grisogono's "The Art of De Grisogono, Creation I," auctioned at Christie's last November.
The auction house did not respond by press time when asked if the diamond had achieved the latter.
Patti Wong, founder, and chairman of Sotheby's Diamonds, said, "When the new custodian of this stone first beheld it, they were, like everyone else who has seen it, completely captivated. It is hard to believe that something so ancient … can be so alive, so full of fire and blinding brilliance. A rarity in the mythical world of 100-carat stones, this diamond is a wonder of nature and of man's ability to shape nature's creations into an object of ultimate beauty."
Sotheby's operates two other Sotheby's Diamonds retail locations, one in New York and one in Hong Kong.