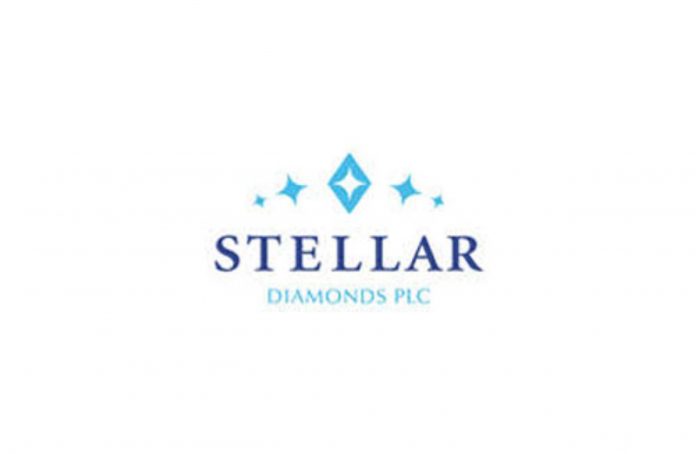 Stellar Diamonds plc announcing its final results for the period ended 30 June 2017 reported that it had raised US$ 1.2 million cash through a combination of equity and debt in the financial year.
The Company had also received another $ 0.25 million in the year "as an advance on the sale of the Group's Guinea assets (as part of the $ 1.25m Guinea asset disposal)".
"Loss before impairments and discontinued activities reduced from $ 2.75 million to $ 2.25 million," Stellar reported.
"The combined Tongo-Tonguma project has the potential to be an exceptional mine," Stellar Diamonds Chief Executive Karl Smithson commented. "The current plan demonstrates a 21-year life of mine exploiting the initial 4.5 million carats. Forecast production targets of over 200,000 carats per annum would generate significant estimated annual cash flows of US$ 45 million. The project has an after tax NPV attributable to Stellar of $ 109 million. This is far in excess of the Company's current market capitalisation and therefore rightly deserves our exclusive strategic focus."
Smithson continued to say: "Furthermore, Sierra Leone has demonstrated twice this year why it should be the target of diamond miners. Gem quality diamonds of 709 carats and 478 carats have been discovered by third parties and the country has a rich history of yielding world class stones, such at the 970 carat 'Star of Sierra Leone'."
Referring to the plans to acquire the Tonguma diamond project he said: "During the past year the proposed acquisition of the Tonguma diamond project has been restructured to a tribute mining and revenue share agreement. The terms of the transaction require Stellar to fund the capital development of the combined Tongo-Tonguma mining operation in return for a de-facto 90% revenue share of future project revenues, once Stellar has fully recouped its capital outlay. Stellar and Octea continue to work together to extend the longstop dates to the completion of the Tribute Mining and Revenue Share agreements as required, to allow Stellar the necessary time to complete the required project development funding."
Noting that the capital markets for junior resource companies "remain challenging", and the Company's current financial position "is weak", Smithson said that the Company has received strong support from its shareholders in recent open offer financings.
"Stellar continues to carefully manage its day to day working capital and alongside our loan note holders, who remain fully supportive, we are working on, and remain optimistic of securing, the required project funding to develop the Tongo-Tonguma project," Smithson stressed. "The mine has the potential to be the second largest kimberlite diamond mine in West Africa and transform Stellar from a small cap explorer in to a mid-tier diamond mining company."
Also providing operational updates for its various sites, Stellar reported that revised resource statements for the 100% owned Tongo Project in Sierra Leone "demonstrate a combined 4.5 million carats (+1.18mm) at recovered mining grades ranging from 100cpht to 260cpht and diamond values of between $209/ct to $310/ct". The Company also said that a further eight million carats have been identified as a future exploration target.
The Revised Preliminary Economic Assessment, mine plan and financial model prepared by independent consultants PPM and SRK Consulting, indicates that the initial capital requirement will be to the tune of $ 32 million with a projected mine life of 21 years.
While production is targeted within 12 months of the funding being put in place, target production ramp up to over 200,000 carats per year is envisaged by end of Year 3 giving annualised cash flows of $ 45 million per annum.
The Environmental Licence has been issued by the Government of Sierra Leone, post the end of the reporting period, and the issuance of the mining licence is awaited.
Meanwhile the tribute mining agreement longstop date has been extended to 31 January 2018.
Reporting on the Guinea Assets disposal, Stellar said that the Share Purchase Agreements (post period end) has been signed with BDG Capital for sale of Stellar's Guinea assets, including all three subsidiary companies, for $ 1.25 million.
"US$250,000 exclusivity fee advance received during the financial year, with a further US$250,000 received post period end," the Company revealed. "The final balance, less certain exit costs including in country taxes and staff retrenchments received upon closing of the transaction post period, of US$ 366,000 bringing the total cash received to US$ 866,000 after payment of taxes, retrenchments, certain creditors and other exit related costs."
This will introduce a saving of $ 70,000 per month from the Guinea exit going forward.
Reporting on the 90% owned Kumgbo Project in Liberia, Stellar said that licences remain "on care and maintenance" even as it seeks a joint venture partner.
News Source: gjepc.org