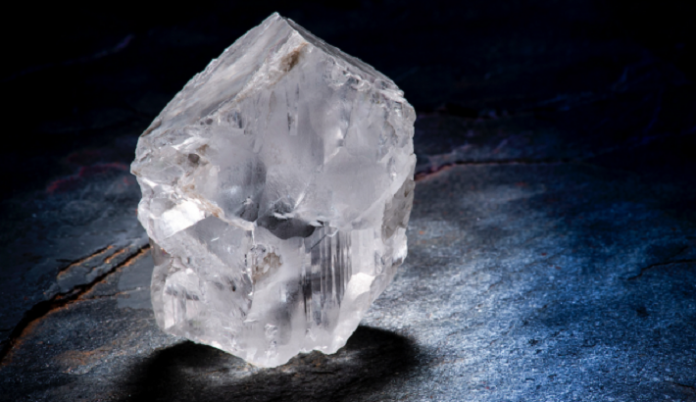 Petra Diamonds Limited announces the Trading Update for the period from 1 July 2019 to 18 October 2019, covering production and sales from 1 July 2019 to 30 September 2019 that is Q1 FY 2020 & that summary says Q1 production up 1% to 1,082,764 carats over Q1 FY 2019 of 1,068,140 carats and on track to deliver guidance of ca. 3.8 Mcts for FY 2020.
Q1 revenue down 23% to US$61.6 million from 603,626 carats sold against Q1 FY 2019 of US$80.2 million from 626,541 carats sold, due to lower diamond prices and volumes in comparison to Q1 FY 2019, compounded by a poorer product mix at Finsch, Williamson and Koffiefontein.
Diamond prices for Q1 FY 2020 on a like-for-like basis decreased ca. 4% in comparison to Q4 FY 2019. Post Quarter end, prices at our second tender indicates some stabilisation with early signs of modest improvement towards year end. As previously announced, a 20.08 carat Type IIb exceptional blue diamond was recovered at the Cullinan mine in September and will be sold via special tender in Johannesburg in November 2019.
Net debt at 30 September 2019 of US$592.8 million grew over the 30 June 2019 of US$564.8 million; the increase in net debt is due to only one tender in Q1 and takes into account an increase in diamond inventories, valued at US$92.4 million at Period ended over the 30 June 2019 US$57.5 million.
Project 2022 is progressing well, with implementation under way at Cullinan and Finsch, and diagnostics being completed at Koffiefontein and Williamson. Benefits expected to start being realised in H2 FY 2020. Richard Duffy, Chief Executive of Petra Diamonds, commented: "We have reported another quarter of solid operational performance putting us on track to achieve our full year production target of ca. 3.8 Mcts.
The diamond market remains challenging, however we will benefit from the sale of the exceptional 20.08 carat Type II blue diamond from Cullinan recovered at the end of the quarter. The implementation of Project 2022 is now under way, targeting US$150 – 200 million free cash flow over the next three years. We are expecting benefits to be realised from H2 FY 2020 and will provide regular updates on our progress."
Petra Diamonds says about diamond market and sales that, the rough diamond market remains quiet ahead of the start of the seasonally busier retail sales period. There was a slight increase in activity in the Indian manufacturing centres ahead of the Diwali holiday; however polished prices and exports remain under pressure, with softer demand and lower prices for rough diamonds.
While on supply side discipline by the major diamond producers, combined with increased advertising spend targeting the festive retail season, is expected to help establish a balance of supply and demand in the midstream
New Source : jni