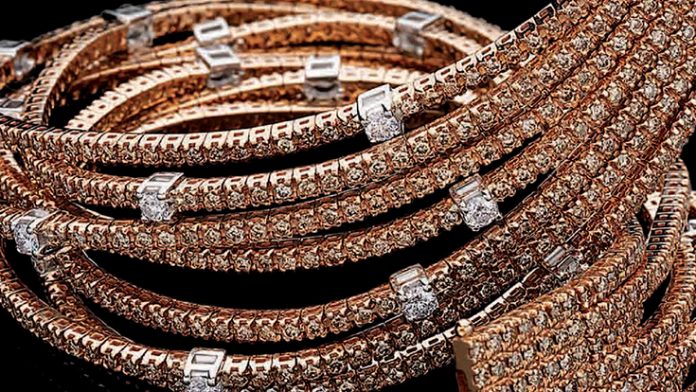 Swarovski's Gemstones division has announced its annual Gem Visions—a robust analysis of the cultural trends and themes influencing the designs of fine and bridge jewelry.  Partnering with industry experts and reviewing a myriad of data, four dominant themes arose for 2017: Existence, Haute Gems, Easy Transform, Self Art.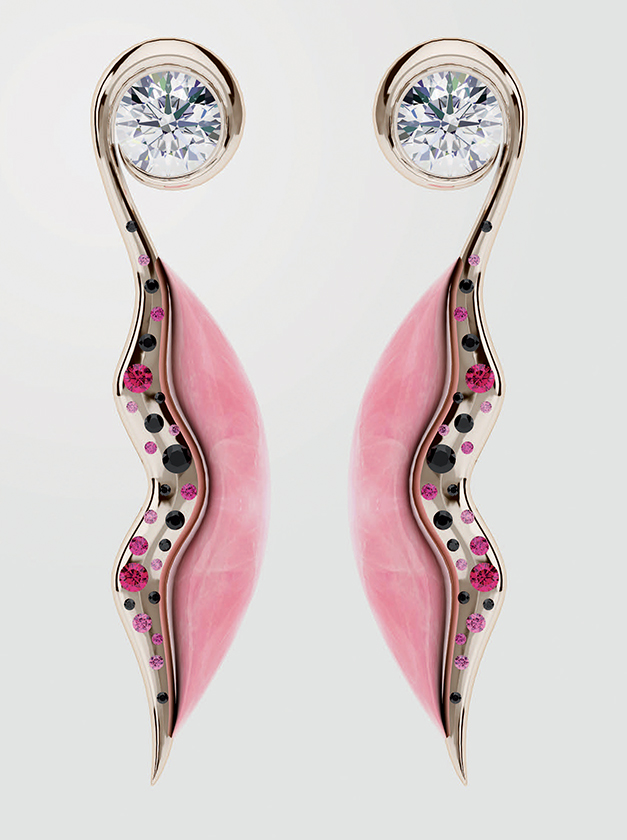 Above all these themes is a growing megatrend, seen in the likes of art, design and more: opposites attract. A  theme recurring for generations, with each group re-defining the polarities to encompass both poles for tension, understanding, and new design.  Rather than experiencing a tension between two ideas—one or the other, young or old, man or machine—the two poles begin to attract one another.  By gravitating towards each other, this fusion creates fertile new ground that is a distinct voice and a newfound concept.
The Millennial Generation is a driving force for this trend.  With an air of confidence and a strong desire for a work-life balance, these consumers fluidly embrace extremes and contradictions unlike any before.  Their growing purchasing power demands that the jewelry market responds by offering jewelry that is fresh, vibrant and above all, daring.
EXISTENCE: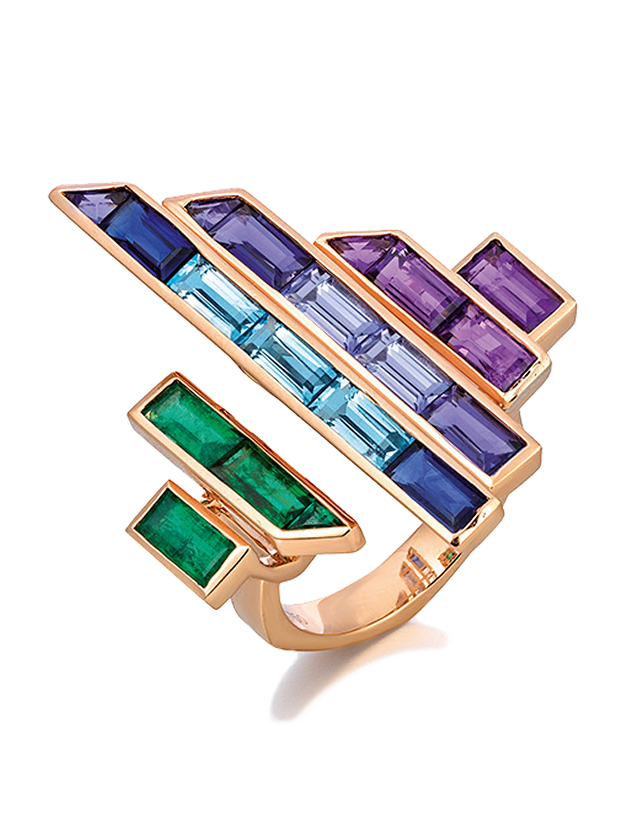 Science and spirituality are in perfect balance with the Existence trend.  It's a celebration of the undiscovered, metaphysical elements of earth and their role within the greater universe. Inspired by dramatic landscapes, extinct creatures of ages past, and rough and raw fossils that immortalize incredible beings, Existence embraces change and the passage of time.
Embodying ethical luxury, stones and materials exhibiting a natural patina only acquired over eons are an expression of this theme and include agates, grey dendritic diamonds, moonstones, amber, coral, pearl, lava stone, bone, fossils, shells, fossilized wood, jet, obsidian, quartz and marble.
Colors are similarly drawn from nature: chartreuse, moss green, snakeskin green, mint green, light-blue grey, lava red, lava grey, deep charcoal and ivory. Look to organic cuts, shallow rose-cuts, slices, domed cabochons.  Especially apt are the round cuts inspired by the lens of the eye and exhibiting special mandala-like light effects.
HAUTE GEMS: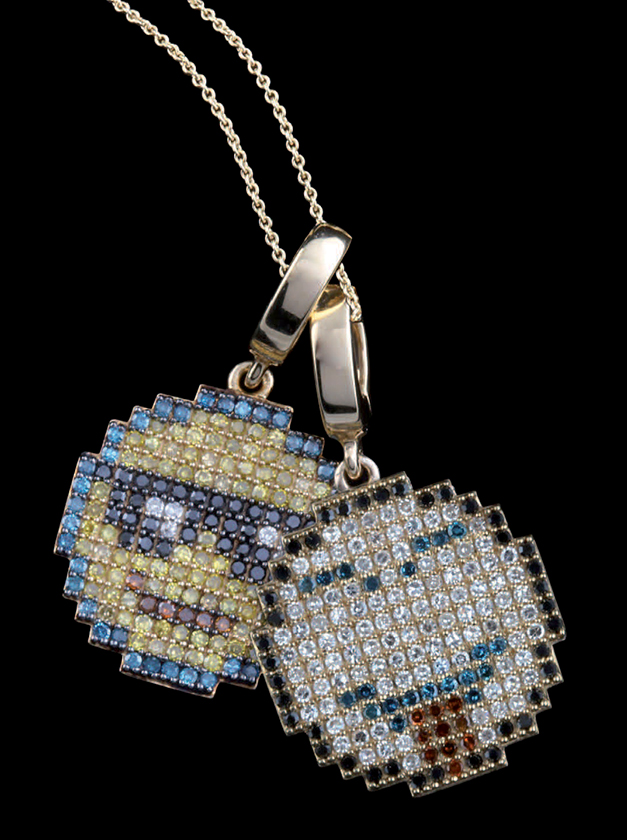 A return to opulence is the next theme.  Epitomized by dramatic jewels with a contemporary look and feel, the focus is on gems of exceptional brilliance and beauty, on dramatic sweeps of intense color, and on stunning craftsmanship that reinforces the strong play of light and line. This new extravagance is never brash but rather closely aligned to culture, fashion, architecture, literature and especially the art of dance.
Regal rubies lead the way followed by deep pink stones, especially pink tourmalines, peridots, yellow beryls, topaz, amethyst and jade. 'Haute Gems' stones are impeccably cut works of art especially exemplified in the noble marquise cut, or in princess or square cuts assembled in modern mosaics to intensify color. Surrounding metalwork reminiscent of exquisite lace, and silk embroideries is made possible by employing advanced technologies.
EASY-TRANS-FORM: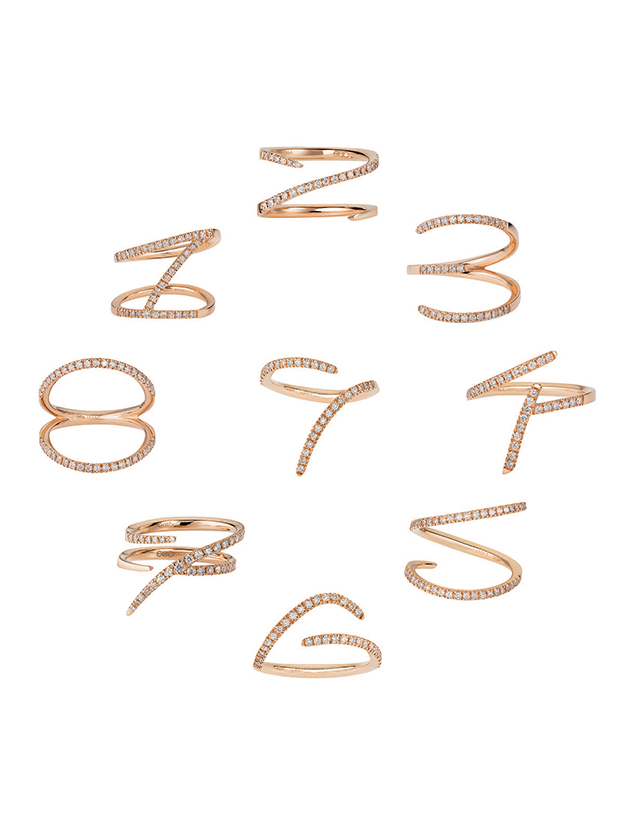 A departure from formality and a desire for accessibility is a key shift in the jewelry category—even in fine jewelry design.  The extra dimensions of how a jewel feels on the skin, how it moves on and with the body, combined with the personal pleasure it brings to the wearer, have become key considerations in design and manufacture.   Mixing and matching is now routine and the way in which jewels are combined is the mark of individuality—not the pieces themselves.  The perfect jewel unites fashion and function in a contemporary classic that can also become a new everyday basic.
This can be achieved with high-tech ceramics, transparent and translucent materials like rock crystal, or dichromatic stones like ametrine. Iridescent materials or gems with shifting light and color, like opals, rainbow moonstones and labradorite are also on-trend, as are frosted finishes. Look for small and sweet, casual diamond accents and a variety of mixed metals in an uplifting palette of fresh brights and pastel tones such as tangerines and lilacs.
SELF ART: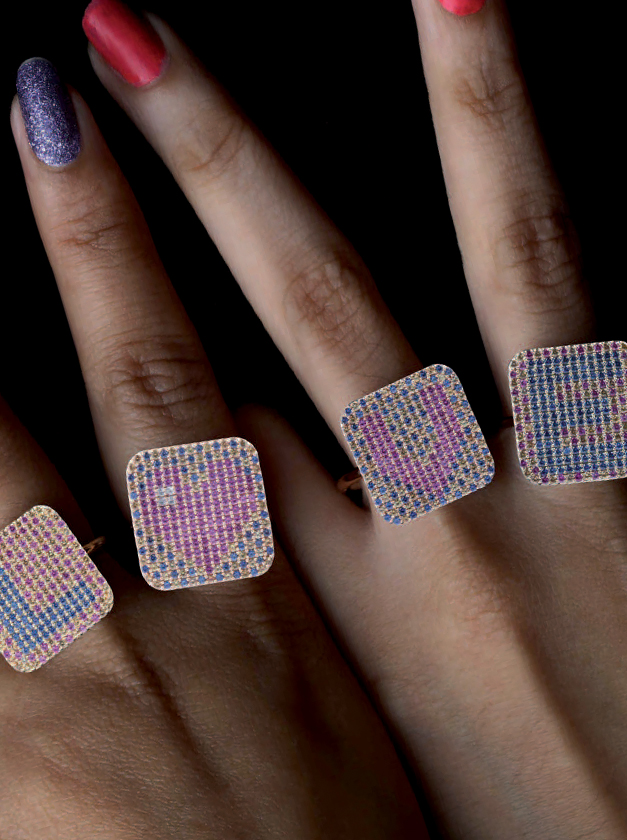 Personal expression through jewelry has shifted with new generations.  Today's young adults have celebrate a different type of quality of craftsmanship—one that meets their laid-back aesthetic and celebrates hand-made, sustainable pieces that reflect their self-expression. Consequently, some designers are revisiting vintage and ritualistic aspects of jewelry, while others are leveraging trends in pop art, surrealism, contemporary music and street-art.
The man-made is being celebrated, opening the way for the inclusion of a broadening range of materials including synthetic diamonds, vibrantly colored cubic zirconia, acrylic, resin, corian, composite materials, 3-D printing materials, faceted howlite, turquoise, black diamonds, brown diamonds, lapis lazuli, brilliant lacquers, enamels, crystals and chains. Settings disappear while silver and unique shades of gold—from rose to black to green—are emerging.  A bold, vivid palette with graphic accents comes into play while there is a strong emphasis on blues, especially lapis, and on shades of camel and caramel.
News Source : swarovskigroup.com