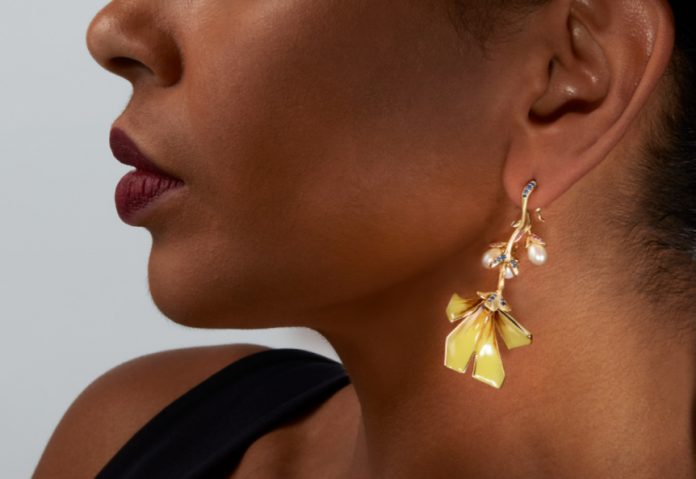 In partnership with online bespoke jewellery hub, Banneya London, British fashion house Tata Naka has delved into the world of fine jewellery for the very first time.
Offering the retailer's most colourful collection yet, the Wild Flowers collection by Tata Naka focuses on beautifying consumer ears with ornate botanic arrangements.
Instead of being printed onto fabric, as was the case with previous collections, the floral designs have been created using enamel, precious stones and gold.
The multi-dimensional collection, which includes an ear cuff, pair of studs, a stiletto earring and interchangeable dewdrops on vines, is designed to be mixed and matched and layered onto the ear.
The three different flowers that make up the collection represent Tata Naka's vision of wild flowers, as opposed to being taken from real life.
The hand-painted enamel can be customised in white, yellow, brown, pink and blue and can be lit up by brilliant-cut diamonds or sapphires.
Tata Naka was created by identical twins, Tamara and Nastasha Surguladze, who graduated from Central Saint Martins in 2000. The duo have consecutively been awarded by the British Fashion Council's New Generation award at London Fashion Week three years in a row.
The Tata Naka fine jewellery collection with launch online with Banneya London on Wednesday 8 November.
News Source: professionaljeweller.com