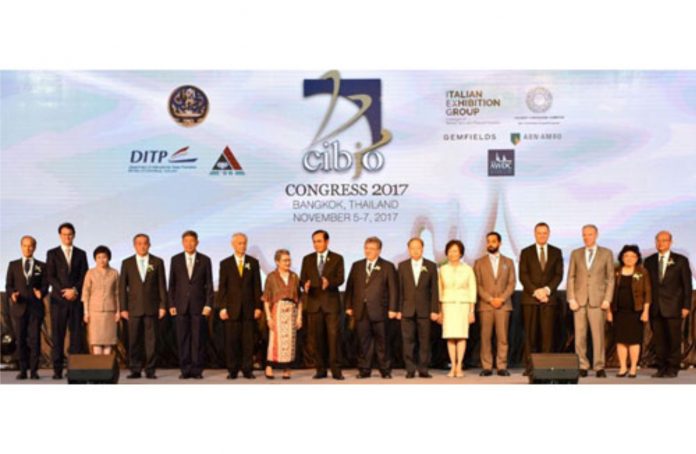 General Prayut Chan-o-cha, the Prime Minister of Thailand said that his government's vision was to ensure that the Thai gemstone and jewellery industry emerges as a key global hub of the business within the next five years. The PM was speaking at the official inaugural session of the CIBJO Congress 2017 which was being held on the second day of the event.
Currently, the industry in Thailand employs over 700,000 people and generates over seven billion dollars in annual revenue, the PM said.
The government will help facilitate the growth and development of the industry through multiple initiatives that include tax and financial incentives, commercial development, greater coordination with the tourism industry, and steps to raise the quality standards and boost consumer confidence. Some of these measures would be part of the government's Eastern Economic Corridor and Thailand 4.0 policies, he added.
Mrs. Apiradi Tantraporn, Thailand's Minister of Commerce, and Mr. Sontirat Sontijirawong, the country's Deputy of Commerce, were also present at the opening.
Addressing the session, CIBJO President Gaetano Cavalieri said, "CIBJO is strongly supportive of the strengthening and growth of the Thai gemstone and jewellery centre, for we believe that it should a foundation stone of the development of our business in Southeast Asia and beyond."
Cavalieri noted that the coloured gemstone trade from Thailand brought in revenue of $670 million, which is about 12 per cent of total world sales. It was also the entry point into the ASEAN Economic Community, which is a market of 625 million people with a collective GDP worth about $2.5 trillion.
Cavalieri urged the government to help the development of the trade by creating infrastructure like "an all-service gemstone and jewellery trading and production centre with a world-class business infrastructure", while also ensuring that the country is "recognised as a centre that complies with ethical business practices, where the principles of transparency, traceability, Corporate Social Responsibility and sustainability are of primary importance".
Pic caption: At the formal opening session of the CIBJO Congress
Pic courtesy: CIBJO
News Source: gjepc.org