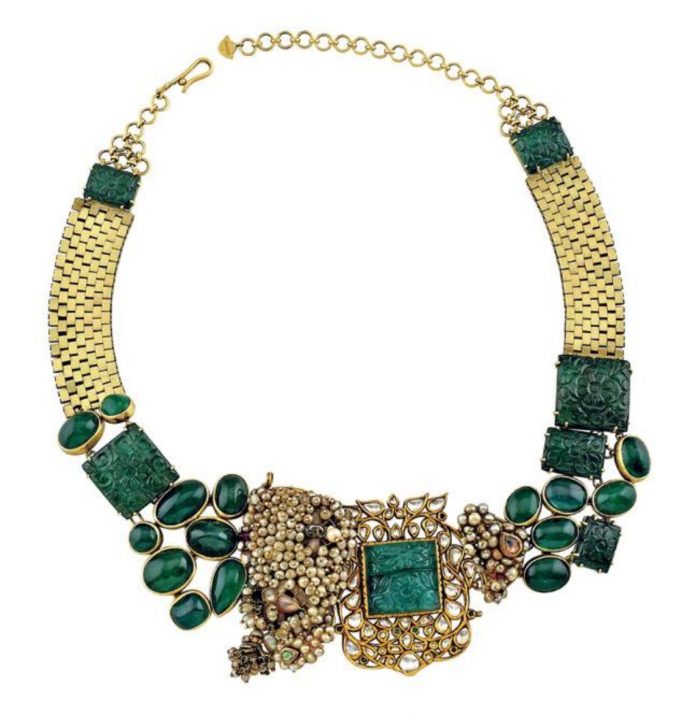 Four Jaipur houses of jewellery chart the changing face of the bridal aesthetic with top trends for the coming wedding season.
Of all the wedding wows, none captures desire more provocatively or portrays passion more consummately than jewellery.
The dazzling dance of metal and stone has evolved through legend and lore to move beyond price and investment to craftsmanship and exclusivity.
The new bridal aesthetic wears its vanity not lightly but tastefully. Where less is more and statement pieces rule, we chronicle four houses of jewellery, all from Jaipur, that have redefined the changing face of this sparkle saga.
From a 280-year-old brand that furnished the whims of Rajputana royalty to a brand only 17 years old that's already designing for the royal family of Abu Dhabi, these dream catchers bedeck Hollywood beauties and Bollywood stars alike.
TRIBAL TURNS TABLES
If you can still vividly recall the golden heave of Brad Pitt's architectural chest in a cobalt blue toga as Achilles, in Troy, but fail to remember the beaten gold, engraved neckpiece he sports, your national pride could be called into question, because all the jewellery worn by Achilles, Helen, Hector and Paris was designed by Jaipur-based jewellery powerhouse Amrapali.
If that doesn't make your chest swell with pride, it should at least surprise you to know that the fairly young brand (founded in 1978) had its roots in the quiet bylanes of Chameliwala bazaar in Jaipur. A non-descript market, "where the Amrapali shop was the last stop on the deadest lane of the market," says Tarang Arora, 35, creative director of the company.
The house of Amrapali, better known for translating a tribal aesthetic to a fashion imperative, began as a rebellion that forced two best friends studying history to strike out on their own. While Rajeev Arora came from a family of doctors and lawyers, Rajesh Almira's family traded in emeralds. The latter just couldn't see himself assessing and cutting green stones all his life. So the journey began when the two started trading in handicrafts since Jaipur was a big hub; jewellery was not even a sparkle in their imagination at this point.
A year and half in to their business, while in Delhi, someone told them about a great demand for garnets, a stone that was cut in Jaipur. They decided to explore the lure of the garnet and discovered a whole world of jewellery in the quest. So, by 1981-82, the duo started selling bits of jewellery.
They would travel to different parts of the state and observe what jewellery the tribal women were wearing. "At this point, there wasn't anyone who was interested in making tribal jewellery into a fashion statement. They would visit sarafa(pawn) shops to buy beautiful jewellery. They would, say, dismantle a necklace that had 14 pendants and make it into seven earrings," says Arora.
The idea was that if they simply redesigned the necklace, they could sell it to one client but this way they made seven pieces and would have seven people talking about it, which would help with publicity and profitability. And that is how it began.
Avant garde designs with a chunky, bold aesthetic that began with silver have, over the years, translated to fine jewellery as well. "We are an Indian brand; we take that Indianness in our designs that reflects Indian craftsmanship and inspiration and then whether we make it in white gold, yellow or rose gold or combine it with jadau, it doesn't matter", says Arora.
Indian sensibility with a western appeal is what helped garner international recognition in 2002, when they were invited to Selfridges for a special promotion, 23 and a half days of Bollywood. Although the contract was for a mere 23 days, 14 years on, the brand is still at Selfridges.
In 2011, Amrapali became the first Indian brand to be invited to Harrods to be part of their fine jewellery room, to share space with Harry Winston and Bulgari.
"People may not be able to tell the difference between a Harry Winston and a Bulgari but if you see an Amrapali ring, you will definitely know it's not Bulgari or Harry Winston. We are the point of difference in the fine jewellery market globally that represents India very strongly," says Arora. With 38 retail outlets across India and six countries, 75 per cent of their jewellery is one of a kind, especially wedding jewellery.
The brand has recently collaborated with fashion designer Anamika Khanna for wedding jewellery as well. "The idea was to design for a wedding that is not typical. No bride or groom wants to resemble a Christmas tree. So delicate pieces are in vogue or even if they are bigger pieces, they are rendered with a delicate aesthetic," says Arora.
Amrapali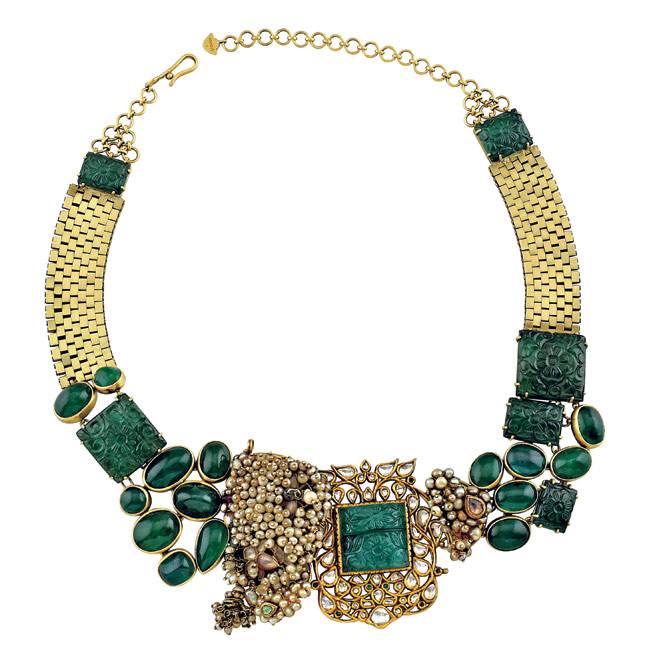 Single colour is back on trend as opposed to multi-coloured jewellery that dominated for a while.
Carved emeralds or workmanship on stones is popular and has ardent fans.
Combination of different mediums, such as gold and silver, for instance, even for wedding jewellery is big; even black gold with a vintage look is here to stay.
The big polki look is all done; coloured stones define the new look with blue tanzanites leading the trend.
YESTERDAY ONCE MORE
Hushed whispers, hurried steps, furtive glances; history tiptoes along the corridors of inherited memories as Chandra Prakash Surana, son of Prakash Chand Surana, 7th generation of the famed jewellery house Bhuramal Rajmal Surana Johuree, recounts the days when his forefathers, official jewellers to the royal family of Jaipur, used to be escorted through the sequestered zenana quarters for an audience with the queen.
A privilege accorded to a select few outside the royal gene pool, the Suranas were privy not just to royal courts and quarters but had, in fact, been invited to settle in Jaipur by Maharaja Sawai Jai Singh II, founder of Jaipur, in 1735 to promote the intricate art of handcrafted gold, enamel, and kundan.
Almost three centuries later, the House of Surana still maintains the traditions of its royal past by preserving the technique, craftsmanship and inspired designs. Although the artisanal skills echo an archival look, the injection of a contemporary aesthetic keeps the brand relevant and its jewellery eternal. "Jadau is what we are most famous for, in fact, we can be called pioneers in the art of jadau.
But, the use of coloured stones, which Jaipur is renowned for, in jadau is the mainstay of our jewellery," explains Chandra Surana, 53. It's as well-deserved boast with a range that redefines exquisite in the most ethereal way. Elaborate necklaces, crafted bangles, traditional head ornaments like matha pati, mang tikka, jhela and borla are intricately textured to give the pieces an elegant, yet effortless look. The jadau pieces are embellished with emeralds, rubies, south sea pearls, tourmalines, polki (flat, uncut diamonds) and diamonds.
The accompanying meenakari or enamel work is as delicate as it is intricate. "It is this finesse in the workmanship that truly elevates a piece to jewellery to an art form," he explains. Meenakari, crafted in 23-carat gold, is a recurrent theme, but contemporarised using pastels as also the use of unstructured south sea pearls to lend an asymmetrical edge.
As far as the wedding jewellery is concerned, "Jadau is integral to every wedding wishlist, how heavy a bride chooses to wear it is an individual choice," he says. "Jewellery has followed the trends of clothes, and is more experimental and pared down. But the use and style is less heavy as opposed to earlier where it was a primary investment asset.
For instance, the hasli, a traditionally broad and stiff head ornament, is crafted in a more delicate avatar so that it is more comfortable for the wearer and resonates with the times," he adds. Ours is a traditional art so we refer to archival designs but even if we repeat designs, the artisans tweak them in ways so that customers appreciate something unique to possess." As proportions change with the times and customers, layers reduce and embellishments become more modest.
Today only 20 per cent of their jewellery is customised as compared to earlier where there was a 50-50 segmentation between ready-to-wear and bespoke. "Patience, like the contemporary aesthetic, is a whittled-down virtue, but as long as women love jewellery, our future looks bright," he says. And as the eye flits from bauble to gem, what's not to love?
www.brsjohuree.com
Suranas
Current trends replaced elaborate meenakari on the top by more stone work and open work setting to make the pieces lighter.
Head ornaments- borlas, jhelas and matha pattis-are popular this season.
Hand ornaments such as hathphools and tagdis are sporting lighter versions, but still big. Traditional bangles like dasti or paunchi are also popular.
Men's traditional ornaments such as the kalangi and sarpech (turban ornaments), are staging a much-deserved comeback.
SONNETS IN STONE
It's a rare woman who isn't enthralled by the rhapsody of stone cast in metal. But it was royal patronage that served as casting director where jewellery was concerned. Nawal Agrawal, of Birdhichand Ghanshyamdas Jewellers, Jaipur, is quick to ascribe credit where it is due. History played to great advantage since Sawai Jai Singh II, the founder of Jaipur, had great plans for his new city.
To this end, he invited the best craftsmen to settle in specially allocated areas. Johari Bazaar, in Jaipur, was meant exclusively for jewellers. Birdhichand Ghanshyamdas (BG) Jewellers were among the first few stores in this famed market, where it all began in 1944. With a vibrant colour palette and inspiration drawn from culture and architecture, BG translates its designs in a glorious duality of traditional roots and contemporary sensibility.
Of course, Rajasthan plays the ultimate muse. Patronising the much-celebrated style of kundan meenakari, their collections-Hunar, Adrishya, Aranya, Amér, and the newest, Adaa- draw on a swath of genres, cultures and creations from across the board. Of course, the heavy insistence of traditional gold and silver jewellery has evolved, altering the face and course of traditional craft. Agrawal's son, Yash, a graduate of GIA (Gemological Institute of America) Carlsbad, US, has created more than 400 copyright and patented designs to infuse the vigour of youthful renditions.
While kundan–meenakari remains their mainstay, bold experimentation with coloured stones and uncut and full cut diamonds are the more natural delineations for the brand. Keeping in step with the modern bride, their wedding pieces experiment with bold hues and interesting combinations of gemstones, diamonds and polki with gold. Variety is the call of the day with audacious taking over flashy and vivacity reigning over the tried and tested.
www.bgjewellers.in/
BG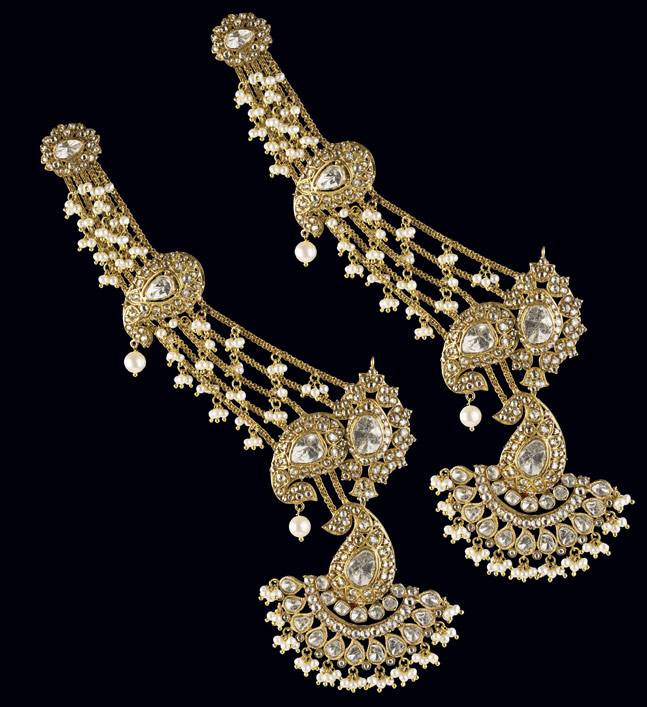 Traditional hand ornaments like hathphool are reigning this season.
Nose ornaments such as the long nath with chain is also going to be very popular.
Long, jhumka earrings with kaanche (hair attachments) are another big trend.
Also, traditional head ornaments like maang tikkas, passa, borla, maatha patti will be the trailblazers for this wedding season.
HUE GRANT
A narrative woven entirely in colour, where nature, history, art and craft collaborate in a sublime confluence, Sunita Shekhawat, the brand and the designer, represent a refreshingly original rethink of traditional meenakari work. Exploring heritage craftsmanship in ethereal pastels and a striking range of blues, "meenakari, meenakari, and meenakari", cradles the kernel of this brand.
The youngest brand of our selection, Shekhawat came into the business only in 1999, even though art and craft were both part of her passions since her student days. A passion she seamlessly translated to designing jewellery; she had always designed her own jewellery, but when ambient appreciation started to morph into actual demand, she decided to spread the joy.
She would take orders after a clear understanding of their ideas and budget, and then sit with individual craftsmen and watch her designs take form. Encouragingly successful, she had started to design for Jaipur royalty including erstwhile Maharani Gayatri Devi, but it was only after her husband joined her that the venture became more commercial.
"Unlike most others, we actually design collections according to season, which essentially translates into two or three per year." Almost 90 per cent of their collections are wedding jewellery that include bespoke pieces for both men and women. Men's jewellery includes not just the typical kalgi, coat buttons and rings but even long necklaces, but "they are not feminine", she insists.
Prospective buyers have to get a fitting done before the jewels are designed. Why? "If a man is 6 feet tall, the requirements of the necklace will be different; for women, the length of the neck, and where the collar bone starts are essential for that perfect rest of a choker," she explains.
They recommend a sitting with the entire family to assess the requirements as well as sensibilities. "We encourage the bride to bring the ensemble along for the initial session so that we can ensure that the jewellery resonates the sense and sensibility of the clothes." Less is more, is clearly their perspective but client is queen as always.
www.sunitashekhawat.com/
Sunita Shekhawat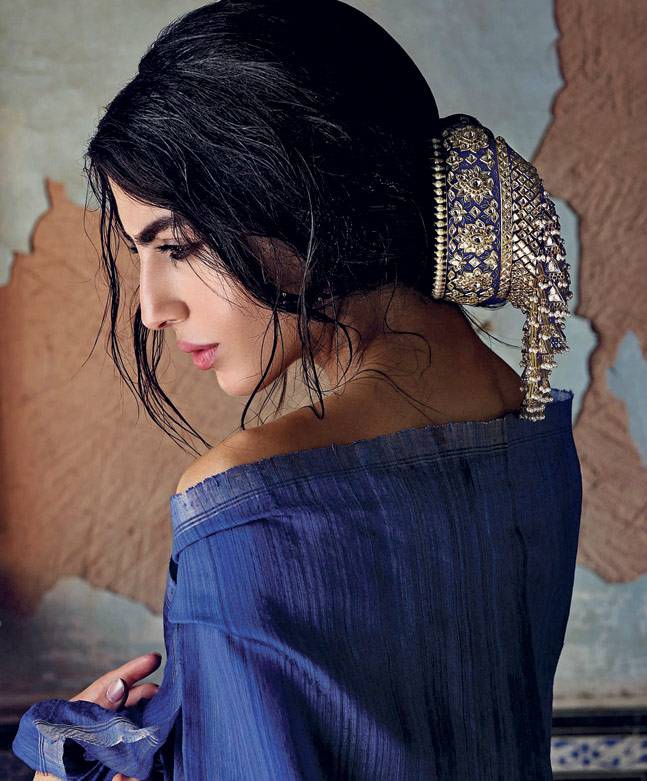 Heavy jewellery is definitely on its way out with sensible, lighter and wearable pieces. in.
Statement pieces that can be worn individually look contemporary and are riding high on the wedding circuit.
Layering of jewellery is a big trend, making it versatile with options to embellish or scale down.
News Source : indiatoday.intoday.in