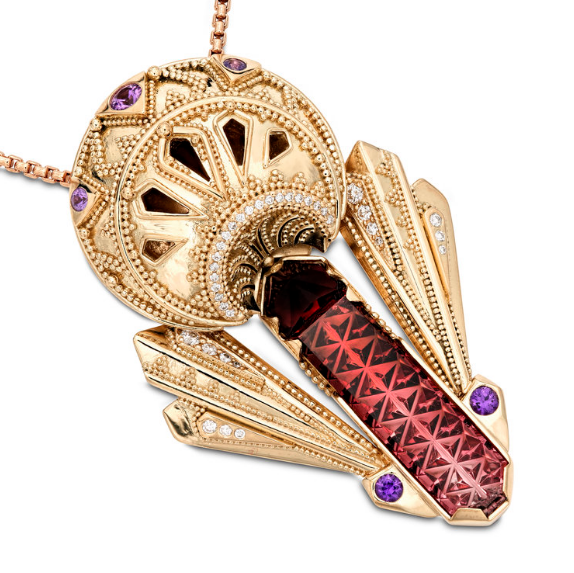 Rio Grande crowned the winners of its 17th annual Saul Bell Design Award competition May 21 at a gala dinner during the Santa Fe Symposium in Albuquerque, N.M.
Two panels of design experts chose first- and second-place winners in each of eight competitive categories, in addition to an overall Best of Show winner.
The competition lures heavy-hitting design talent, as evidenced by the extraordinary work of this year's winners and runners-up.
A complete list of the winning designs, as well as all finalist pieces, are featured online at saulbellaward.com.
Here's who took home top honors:
Best of Show: Firenze bracelet by Valerie Jo Coulson (Above)
Gold/Platinum Category Winners:
First Place: Sarah Williamson for Unfurl Rebel Jewel (Above and at top)
Second Place: Henry Spencer for Sinuous Line
Silver/Argentium Silver Category Winners:
First Place: Arturo Sanfelix Garcia for Passarola (Above)
Second Place: Matthieu Cheminee for Stampclastic
Metal Clay Category Winners:
First Place: Cindy Miller for Cultivated Woodland (Above)
Second Place: Liz Sabol for Cheshire Cat
namel Category Winners:
First Place: Sandra McEwen for Fool's Errand (Above)
Second Place: Nicolette Absil for Dried Flower Series: Chrysanthemum
Hollowware/Art Objects Category Winners:
First Place: Aleksandr Maryaskin for Discovery of Eggcellence (Above)
Second Place: Henry Spencer for Nuthatch Box
Alternative Metals/Materials Category Winners:
First Place: Andy Cooperman for Poison Ring No. 2 (Above)
Second Place: Sophia Hu for Turning
Emerging Jewelry Artist 22 Years of Age and Younger Category Winners:
First Place: Jason Baide for Flexibility (Above)
Second Place: Yeonjung Hong for Embrace
Emerging Jewelry Artist 18 Years of Age and Younger Category Winners:
First Place: Autumn Lee for Rocket Askew (Above)
Second Place: Jordan Harrison for Locked In
News Source : jckonline.com