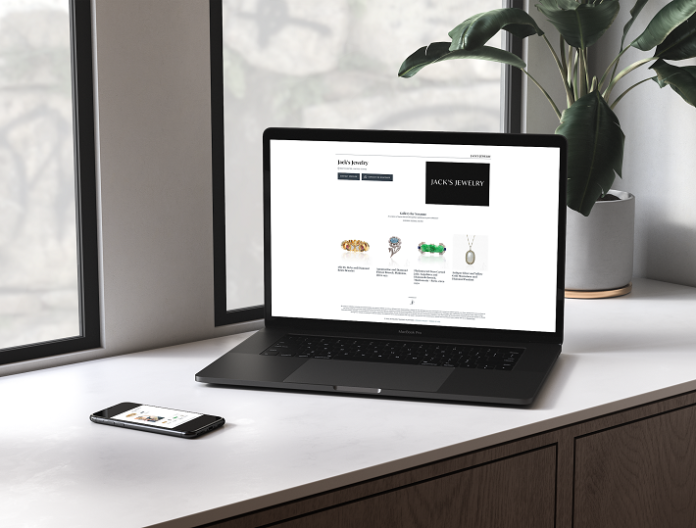 New York, NY (April 12, 2022) – The Jewelers Circle is pleased to debut its latest feature "Shared Gallery" – a virtual inventory and memo that can be sent directly to private clients and consumers. As a global online marketplace, the Jewelers Circle is dedicated to providing jewelry trade professionals a secure digital space to showcase, discover and trade rare and exquisite vintage and designer jewelry, loose stones, watches and other bespoke collectibles.
Both visitor and exhibitor subscribers can now send a curated selection of items from verified dealers on the platform to their private clients through a secure link. The previously titled 'Watchlist' (heart icon) is now transformed into 'Galleries'. Under Galleries, subscribers can collect, track and organize pieces from multiple exhibiting dealers on the platform by creating their own private galleries. When a subscriber is ready to send a curated list of items to their private clients, they can convert their private gallery(s) into a Shared Gallery(s). There is no limit to the number of private galleries or shared galleries a subscriber can create.
Once a private client opens the link, the page view features the selected item images, descriptions and pricing assigned by the subscriber in a modern and easy-to-view format of a white nonbranded background with subscriber contact information located at the top.
"The new Shared Gallery feature was designed to service the subscribers of the platform to drive potential business through virtual inventory memos to consumer and trade clients," states Marianne Fisher, Co-Founder and Managing Director of the Jewelers Circle. "It is a tool for retailers/dealers to provide a custom digital shopping experience to their clients and provides a new depth to online shopping in the jewelry industry, while still protecting the B2B side of the business since no other dealer contact information is displayed in the Shared Gallery."
The Jewelers Circle platform enables retailers and industry professionals to discover, connect, procure and ultimately transact without platform commissions in a way that would traditionally take place in-person.
The core platform functions include:
Browsing thousands of listings with powerful sorting, filters and searching capabilities
Receiving custom notifications when items that meet the set search parameters are newly listed
Connecting to hundreds of top verified dealers from across the world
Posting in platform "calls" (messages) for specific products to preferred dealers or the whole network
24 Hour Best Offer Items – a feature to bid on products from exhibitors with reserve price points available for a limited time
Shared Galleries to save products and the ability to share as virtual memos with private clients through a secure link
About Jewelers Circle:
Launched in 2020, the Jewelers Circle is a secure, trustworthy global online platform and marketplace dedicated to providing dealers, retailers and trade professionals a safe, yet intuitive, digital space where they can showcase, discover and trade rare vintage/antique, designer jewelry, loose stones, pearls, watches and other bespoke collectibles. The Jewelers Circle platform is only open to trade professionals and designed to connect exhibitors and retailers and to expand the traditional wholesale business model to fit the needs of our new world.
About International Antique Jewelers Association (IAJA):
Six reputable international firms have joined to create the International Antique Jewelry Association: Paul Fisher, Inc. New York, J. & S.S. Deyoung, Inc New York., G Torroni SA Geneva, Hancocks Co. Ltd. London, Ernst Farber Münich and Palais Royal Paris & Hong Kong. IAJA is a consortium of antique and period jewelers around the globe. The organization is committed to safeguarding the integrity and ethical behavior of the industry, seeking to elevate the understanding of the unique treasures they collect and trade.