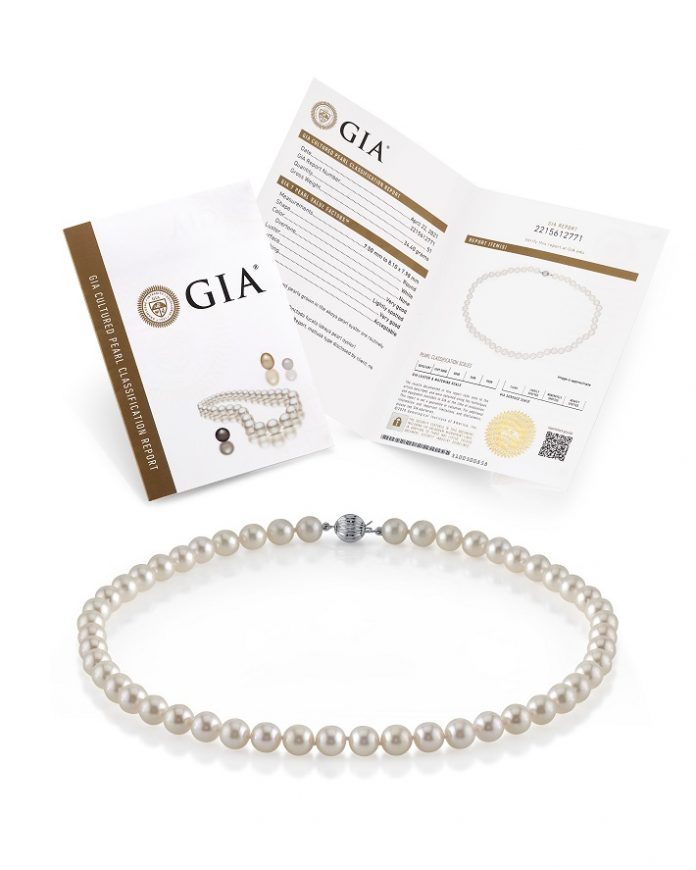 Los Angeles, Calif. – September 9, 2021 – The Pearl Source, the leading online pearl jewelry retailer in the United States and member of Jewelers of America, today announced it is using a new report from the Gemological Institute of America (GIA) to provide its customers with dossier-style classification reports of its cultured pearl jewelry. The new GIA Cultured Pearl Classification Report includes a detailed classification of submitted pearls based on the GIA 7 Pearl Value Factors as well as a digital image of the pearl. The L.A.-based online retailer, which has been importing and selling pearl jewelry for over two decades, is the first e-commerce operation to offer the reports across a wide range of product lines, providing added assurance and authenticity for customers.
The GIA Cultured Pearl Classification Report service is specifically offered for three major types of cultured pearls: Akoya, South Sea, and Tahitian pearls. They examine pearl size, shape, color, luster, surface, nacre, and matching. If a pearl is found by GIA gemologists as being modified by treatment (except routine processes) or as not belonging to one of the accepted pearl types, the pearl service will automatically change to a pearl identification report. The Pearl Source will offer reports primarily on pearl necklaces and pearl set options throughout the website.
"The GIA has always been the most trusted resource for gemstone authenticity and grading in the traditional retail environment," said Leon Rbibo, President of The Pearl Source. "But the world has moved online, and shoppers looking for high-quality, graded pearls want the assurance of knowing exactly what they are buying. This is the level of trust and transparency that every online retailer should strive for, particularly if you're operating in the luxury goods space."
The news comes as e-commerce fraud reaches all-time highs sparked by a pandemic-related boom in online retail. The jewelry and gemstone industries have not been immune, especially as synthetics flood the market and some sellers attempt to pass off laboratory-made stones as natural. Luxury designer labels have also suffered from a sharp uptick in brand fraud, where online sellers – many of which located overseas – sell counterfeit goods on global e-commerce platforms.
Fraud and counterfeiting costs the U.S. economy as much as $600 billion annually, according to the Commission on the Theft of American Intellectual Property. Consumers often fall victim, unknowingly paying top dollar for fraudulent gemstones, jewelry, and high-end fashion products.
"Since 1931, GIA has protected consumers, adapting and evolving to changes in consumer trends," said Anna Martin, GIA senior vice president of global development. "The GIA Cultured Pearl Classification Report – backed by the Institute's decades of gemological research – addresses the growing consumer and trade desire for independent, science-based evaluation of cultured pearls."
The effort by The Pearl Source ensures customers understand exactly what they are purchasing and receive the quality and authenticity they've come to expect from the TPS brand. In addition, customers who purchase from The Pearl Source are contributing to a brighter future for women across the globe. Through the Power Pearl Fund – launched in 2020 – nonprofit partners receive a portion of every single sale on The Pearl Source. Funds directly benefit the financial, educational, and entrepreneurial empowerment of women worldwide.
For more information, visit www.ThePearlSource.com.
About The Pearl Source
The Pearl Source is one of the largest online pearl jewelry retailers and distributors in the United States, importing Freshwater, Akoya, Tahitian and South Sea pearls worldwide. A leading member of Jewelers of America, The Pearl Source has specialized in offering high quality customized pearl jewelry at up to 80 percent off retail prices for more than 20 years. All jewelry pieces are created in house at the company's Los Angeles-based headquarters to ensure that every order adheres to the highest standards of pearl quality. For more information, visit www.ThePearlSource.com.