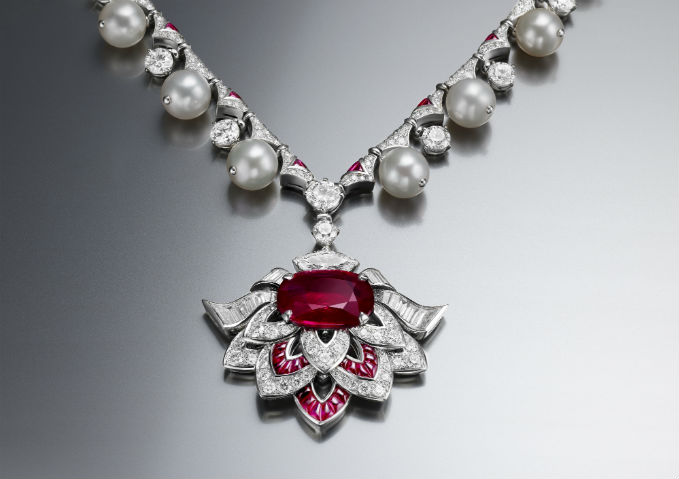 The indubitable charisma of pearls transcends trends and generations. For centuries, these treasured gems from the sea have fascinated connoisseurs and traders alike, instilling an endearing pearl-loving culture in the global gemstone and jewellery sector.
As paragons of subtle sophistication, both natural and cultured pearls come in an expansive array of colours. The classic white and cream remain highly favoured but unconventional colours such as mystical blacks, greys and silvers as well as dainty pinks and lavenders are steadily gaining steam in the market. Overtones of green, purple, pink or blue inject an additional layer of rarity into the pearls.
Jewellery designers rely heavily on pearls' resilience and eternal beauty. With their impeccable lustre, diverse shapes and overall appeal, pearls blend perfectly with dazzling diamonds or gems bearing the most vibrant of colours.
The historic La Peregrina from the late 16th century is one of the most important pearls in the world. Redesigned by celebrated jewellery house Cartier in the 1970s, the piece fetched US$11.84 million at a Christie's auction in 2011. It features a detachable drop-shaped natural pearl of 50.56 carats, accentuated with diamonds, rubies and cultured pearls. The pearl once belonged to Elizabeth Taylor.
More recently, Bulgari paid homage to the arresting beauty of pearls interspersed with coloured gems with its Cuore Di Roma necklace. The piece has a 12.10-carat Mozambique ruby centre gem, embraced by lustrous pearls and diamonds.
South Sea pearl expert Jewelmer Joaillerie of the Philippines meanwhile placed the golden South Sea pearl in the centre of a scintillating collection of floral-inspired jewellery pieces. Juxtaposed with diamonds, pearls in the Spring Blossoms Collection bring to mind cherry blossoms unravelling in the springtime. According to the company, each flower sculpted with diamonds and gold highlights nature's exceptional creation, the golden South Sea pearl.
News Source: jewellerynet.com