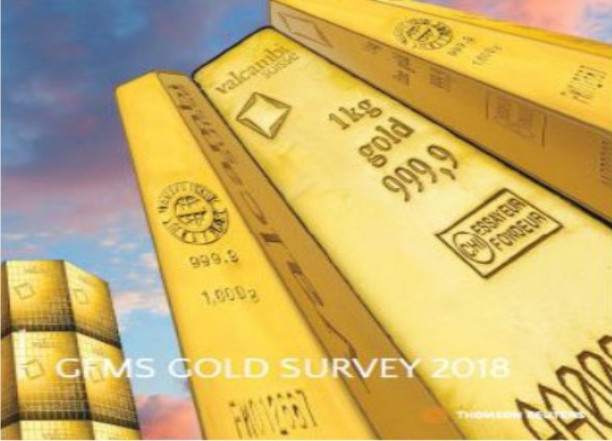 Global demand for gold jewellery may fall by 3% during 2018 on rising prices of the yellow metal, Thomson Reuters said yesterday while releasing its annual GFMS Gold Survey 2018, the 51st in the series of the publication.
A drop in Indian demand will be one of the key contributors to the worldwide decline in jewellery demand, the report stated.
According to the Survey, the current geopolitical climate and equity markets will continue to support gold's role as a risk hedge and gold prices would average $1,360/oz in 2018, potentially briefly approaching $1,500/oz later in the year.
The report highlighted that key drivers of the price increase will be the uncertainty revolving around President Trump's politics, along with ongoing tensions in the Middle East and Brexit negotiations.
Against this backdrop, GFMS projects that an expected rise in both retail investment and ETF demand in 2018, the former after four consecutive years of declines. A pick-up in bar demand, supported by improving sentiment towards gold and rising price expectations, will be a key factor, while ETF demand is expected to reach 350 tonnes, almost double of the 177 t reported in 2017.
Coin demand will however, slide further as this sector attracts many price sensitive investors who are likely to be discouraged by higher gold prices, the Survey stated.
The GFMS team also identified another bullish factor – expectation that China would resume as a central bank buyer and consequently the official sector globally will acquire over 400 tonnes on a net basis.
The Survey also presented the highlights of gold's performance in 2017 which include:
A 13% increase in jewellery fabrication to 2,214 tonnes, mainly helped by a 58% jump in demand from India.
A 24% decrease in total identifiable investment to 1,205 tonnes – moderate, though positive, ETF flows offfset weaker coin and bar offtake.
A 36% rise in net official sector purchases, aided by Russia buying more than 200 tonnes for the third consecutive year and Turkey starting to make regular acquisitions.
Marginally lower mine production of 3,247 tonnes.
A 7% fall in global scrap supply to 1,210 tonnes, the first annual decline since 2014.
News Source : gjepc.org